Small Group Adult Boxing Classes are HERE!
Posted on
---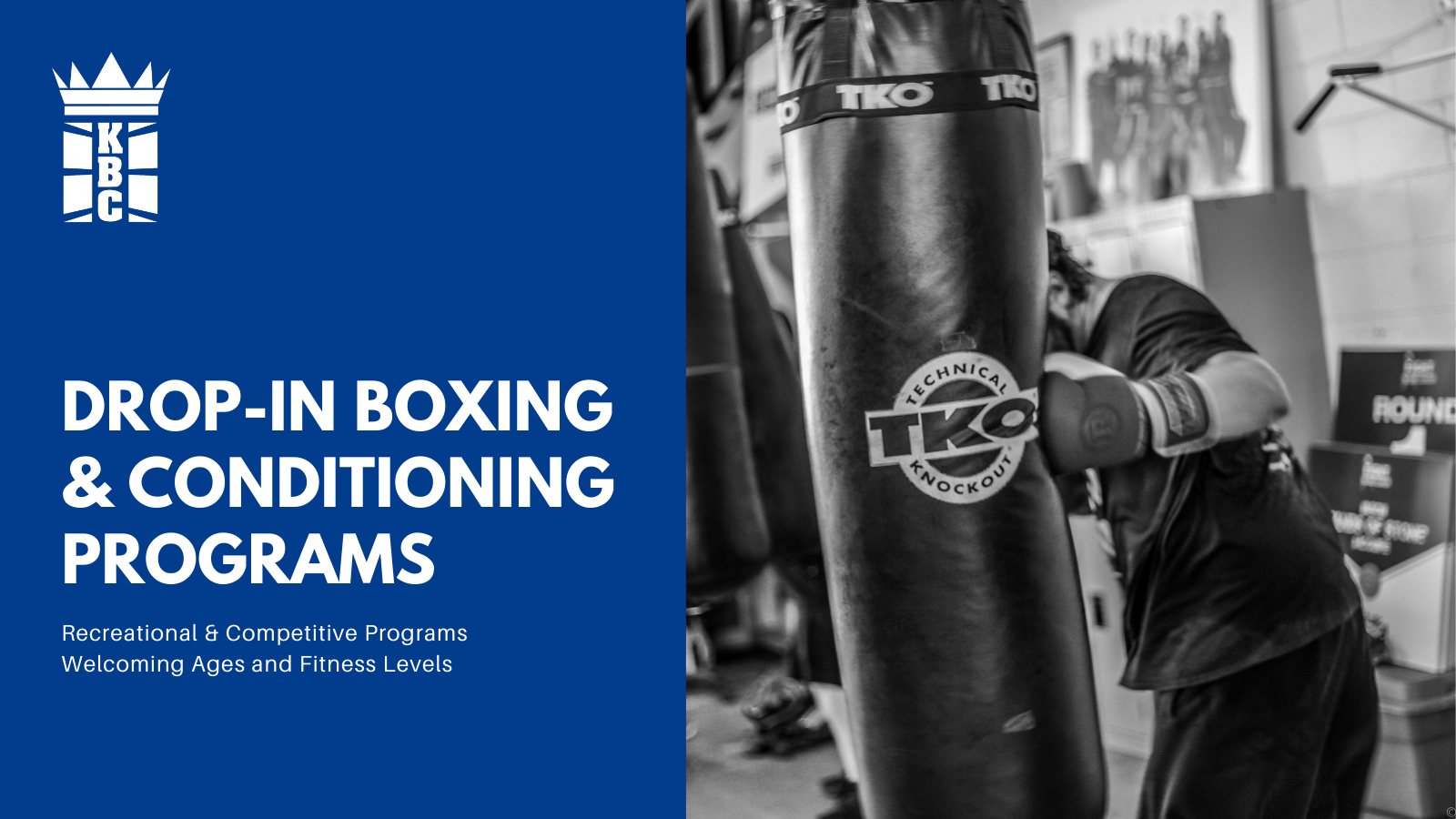 REGISTER NOW – CLASSES FILL UP QUICKLY!
Our Small Group Drop-In Classes are physically-distanced, drop-in sessions.
These classes are run by Boxing Ontario, Nationally-Certified Coaches. Participants will learn the technical movement and mechanics of boxing, along with being challenged physically in a whole new way. The classes offered at Kingsway Boxing are suitable for all fitness levels!
Students will be put through a series of drills, both technical and conditioning. The difficulty of the drills vary making classes challenging, however allowing those at lower fitness levels to pace themselves. Conditioning classes include full body conditioning and toning, combination drills and a minimum of 10 rounds of boxing and skipping. These classes will have you working the bag like a pro!
Special Note: We're now offering HIIT Strength with Maria Every Monday 5:30 pm at THE HIGH PERFORMANCE STUDIOS | 3046 Bloor St. W. Toronto ON. Use the link below to reserve classes below.
---
DROP-IN AND ENROLMENT OPTIONS
OPTION 1 – Reserve Classes Now: Use the "Reserve Classes" link and navigate to the class dates you would like to reserve. The system will guide you through the booking process.
OPTION 2 – Request Ongoing Enrollment: If there's one or more class want to enroll for weekly, we can arrange ongoing enrollment. You can cancel the class reservation within 24 hours of the class without losing a session.
Important Note: With ongoing changes to COVID protocols, it's important you read and agree to the KBC Guidelines BEFORE attending each class: Read KBC COVID Protocols
---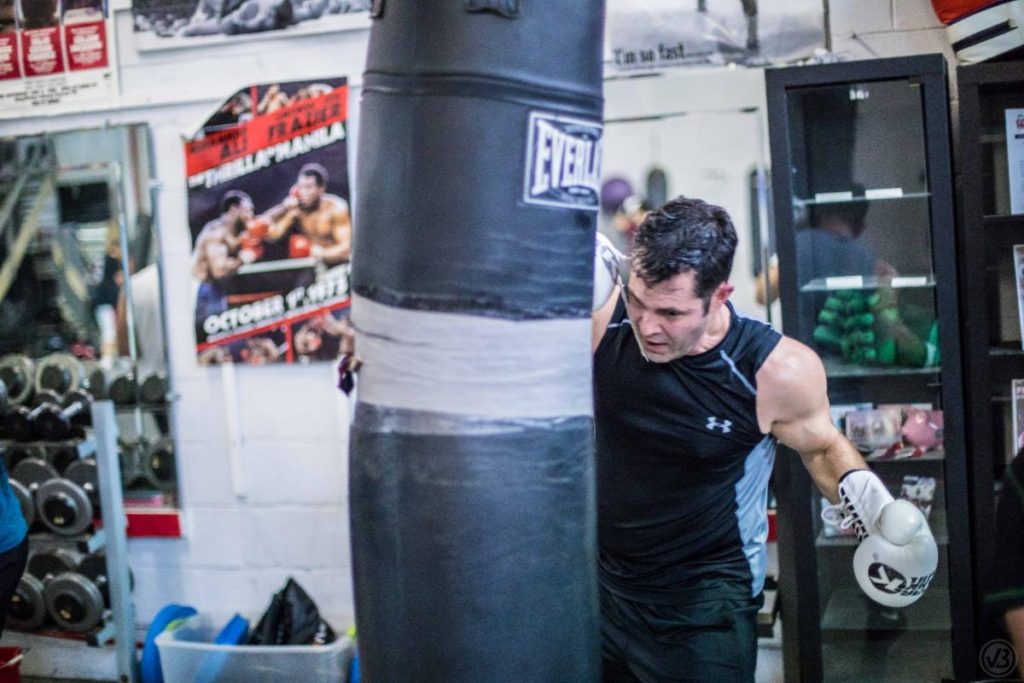 Adult Boxing (Ages 18+) — SMALL GROUP DROP-IN OPTIONS
[JUTLAND LOCATION] THE BOXING GYM | 22-B Jutland Road
Every Monday, Tuesday, Wednesday and Thursday at 7:15pm
[Heavy Bag] Every Tuesday 6:15 pm
Every Saturday at 9:00am
[BLOOR LOCTION] High Performance Studios | 3046 Bloor Street West
[HIIT Strength] Every Monday at 5:30 pm
Every Wednesday at 8:15pm
Pricing Options:
5 Class Starter Pack – $105.00
10 Drop-In Classes – $225.00
20 Drop-In Classes – $400.00
45 Drop-In Classes – $675.00 (this package can be shared with family members)
---
PLEASE READ COVID PROTOCOLS
Here are a few things you should know before we get started:
COVID-19 PROTOCOLS
Line up outside and wait to be screened by your coach (ensure you've got your Daily Screening Tool Complete. Arrive no earlier than 5 minutes before the session starts.
Wear a mask when we first meet. You may take it off once you've been placed in your workout section and you begin your physical activity.
You will be required to sanitize your hands upon location entry before we start the session.
Maintain your 6' separation when training unless you are with the same family or bubble group. Keep your masks handy in case you need to move outside of your allotted space or use the washroom facilities.
If you cannot make the session, please give a minimum of 24 hours' notice in advance. This is important for contact tracing.
Please read full protocols: KBC COVID Protocols.
WHAT TO BRING
Account Login: Ensure your information is updated so we can communicate any updates
Come dressed and ready to train, including your workout shoes. Change rooms are off limits due to COVID Protocols. If it's a rainy day outside, please ensure you wipe your feet throughly
Bring a full water bottle
Avoid bringing large bags. But we know you may be coming from school, so we will have cubbies!
[ARCHIVE] ALREADY REGISTERED IN OUR PROGRAMS? KEEP UP WITH CORRESPONDENCE!
Program Update | Jennifer Huggins
Jul. 2/2021
Happy Canada Day Team KBC!
Please note that with the exception of Saturday 9 am Virtual Boxing, all group and virtual classes are cancelled for the holiday weekend, with regular schedule resuming Monday July 5.
Please note the following:
Saturday July 3 – 9am Virtual Boxing will run as scheduled
Monday July 5 – 6:30 pm Weekly HIIT Drop-In Classes begin at our High Performance Studio
Wednesday July 7 – 8:15 pm Weekly Boxing & Conditioning Classes begin at our High Performance Studio
Thursday July 8 – 5:15 pm Youth Class begin at our Boxing Gym Location
10 New Spots have opened up in Jo-Anne's Bootcamp and Muscle+Run (every Tuesday and Thursday) More Info
High Performance Trainer, Maria Gernega has opened her schedule for private training Every Monday 10 am – 5:15 pm More Info
RESERVE CLASSES NOW – Or feel free to connect directly with me to discuss any options or next steps. Thank you again for all of your patience and support as we continue to navigate the legislation and protocols.
FREE ON-DEMAND ACCESS UNTIL JULY 5, 2021COURTESY OF KBC & BEAVER BOXING, PLEASE ENJOY UNLIMITED ACCESS TO OUR VIRTUAL LIBRARY WITH HUNDREDS OF CLASS RECORDS:
Important Notes:
This Code is updated each month for members only – PLEASE DO NOT SHARE
Seasonal program access code is different
Best Regards,
Jennifer Huggins
Kingsway Boxing Club
Program Update | Jennifer Huggins
Oct. 11/2020
Good Morning and Happy Thanksgiving Kingsway Boxing Family,
I'm contacting you directly today to clarify next steps following the announcement of the "Modified Phase 2" in Toronto, Ottawa and Peel Region.
This announcement directly affects ALL Kingsway Boxing Members and Programs, however as a Licenced Club of Boxing Ontario, we WILL remain open until further notice. Read Official Boxing Ontario Statement
Please note the following steps that MUST be taken Before your next visit:
STEP 1 – Register For Boxing Ontario Recreational Licence ($25.00 Annually): (MANDATORY PHASE 1 & 2) This Licence will allow access to our facilities throughout Phase 2 and ensures the member is covered under the Kingsway Boxing Club & Boxing Ontario insurance.
Important Note: 2020 licences are valid until Dec. 31 2020. Competitive Boxers holding their Boxing Ontario Competitive Licence do not require the Recreational Licence.
Part A: REGISTER NOW – ALL Returning clients require this licence. *Note that Competitive Boxers holding their Boxing Ontario Competitive Licence do not require the Recreational Licence. This Licence ensures the member is covered under the Kingsway Boxing Club insurance.
Part B: COMPLETE FORM (attached) – Please complete the form and send to jennifer@kingswayboxingclub.com (use CamScanner for smartphones)
STEP 2 – Complete KBC Screening Tool BEFORE Every Visit: Complete Now & Save Link For Easy Access
Thank you for your patience and support, we appreciate it more than words!
In The Meantime, Keep Your Hands Up… And Clean! 👊
Best Regards,