How to prepare for boxing class🥊
Posted on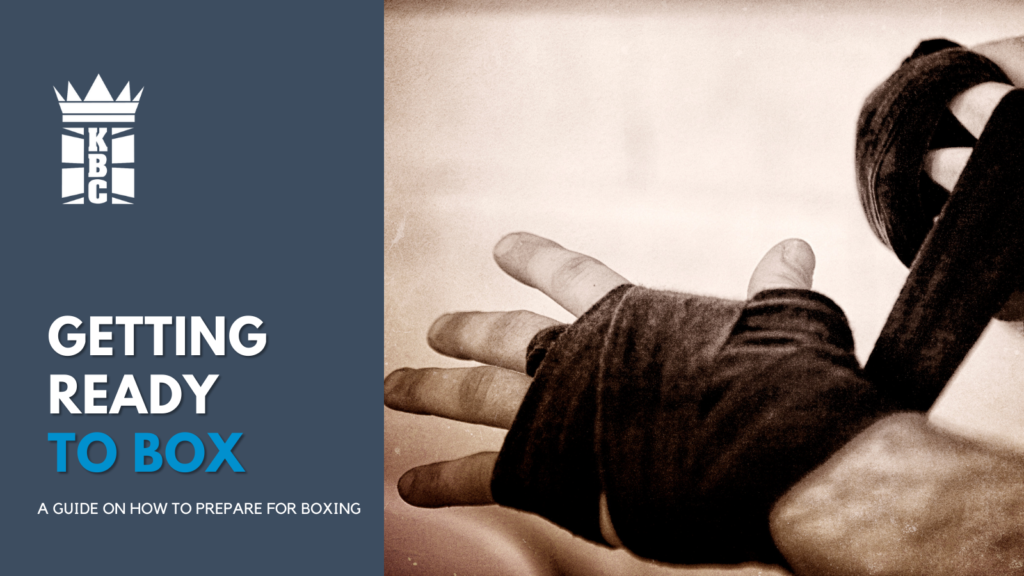 ---
New to boxing or have been thinking about joining a class and not sure what you need to prepare for a class? Don't worry, we will help to make it easy for you to get prepared so you can feel more confident when you begin your boxing journey.
It's really important that you are well hydrated and nourished to give yourself optimal energy so you can get the most out of your class. Read more here on how to stay properly hydrated.
Next is making sure that you know how to wrap your hands as when you wrap your hands correctly, it can help protect against the repetitive impact endured in boxing. An incorrect wrap can lead to an injury sustained to the hand or wrist or disqualification from your fight if you are competing.
.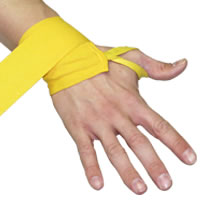 Step 1
Your hand should be held open in a relaxed position, with your
fingers spread apart. Begin by placing the hand wrap thumb
loop around your thumb and be sure that the 'This Side Down' text on the hand wrap is against your skin.
Bring the wrap across the back of your hand and wrap around your wrist 2 or 3 times. Be sure to wrap high enough (2″ to 3″ up from your wrist joint) on the wrist to maximize support. You want to keep the hand wrap snug throughout this process, but not so tight that it will cut off your circulation.
Step 2
From the wrist, bring the wrap across the back of your hand
and around your palm, then across the top of your knuckles.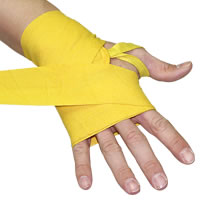 Step 3
Wrap around the knuckle area 2 to 3 times. From the top of
your knuckles, wrap across the back of your hand toward your
wrist and around. This will create an 'x' pattern across the back
of the hand.
Repeat the 'x' pattern 2 or 3 times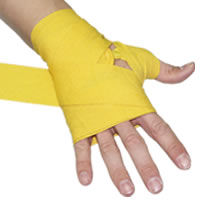 Step 4
Continue around the palm of your hand to the base of your
thumb. Wrap completely around your thumb and back toward wrist on the palm side of your hand.
It is important to keep the wrap from twisting while wrapping
the thumb.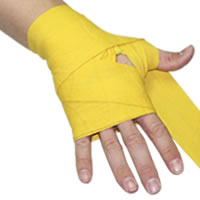 Step 5
Continue wrapping around the back of your hand to the thumb
and once again wrap around your thumb, this time from the
opposite direction.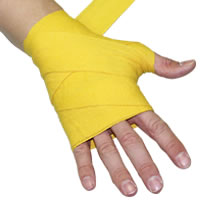 Step 6
Wrap from the thumb over the back of your hand and around
your wrist.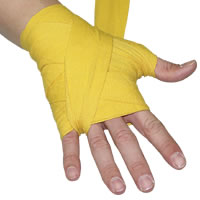 Step 7
Continue around your wrist, over the back of your hand and
through the space between your pinky and ring fingers. Wrap
around your palm back toward your wrist and repeat the steps
for each finger.
Be sure to keep the wrap as flat as possible and twist free.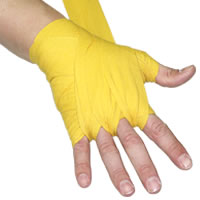 Step 8
With the last finger completed, bring the wrap across the palm
back toward your wrist.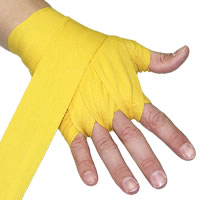 Step 9
Continue wrapping across the back of your hand toward your
knuckles.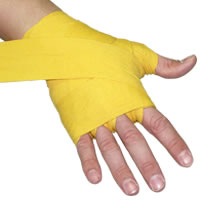 Step 10
Wrap once more around the top of the knuckles and across the
back of your hand toward your wrist.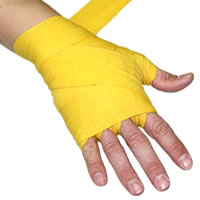 Step 11
Secure your wrist with the remaining hand wrap. Be sure to
wrap it snugly to provide support for your wrist.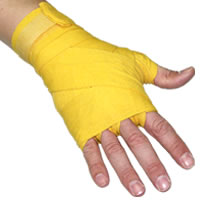 Step 12
Fasten the Hook & Loop closure and you're done.
Want a print out? Here is the PDF version CLICK HERE
Although boxing can seem intimidating, it is a sport for everyone and all fitness levels. We have classes for all ages and you will be well taken care of by our coaches.
The best way to get started with us is through classes, which can be booked directly on our site here : RESERVE CLASSES 📅
If you want some extra support, we also offer 1 to 1 coaching, which is our TKO packages, to ensure that you feel more comfortable and gain confidence in boxing. Check out our specials here Get Started
Before you get started, we do require that everyone fills out our registration form here REGISTER HERE
We believe in being transparent as we want everyone to feel completely comfortable and at ease before registering. View the Kingsway Boxing Club Terms & Conditions for cancellation and refund policies, and important information pertaining to the agreement when purchasing sessions or memberships.
Please take a moment to review the KBC Terms & Conditions
Did you know, we are now available online: Since launching our virtual boxing and conditioning classes, the feedback has been amazing. Kingsway Boxing has now partnered with Beaver Boxing in Ottawa to expand our virtual program offerings including our all new On-Demand Video Library Available Free To KBC & Beaver Boxing Members. Check out KBC ON-DEMAND CLICK HERE
---
ALREADY REGISTERED? HERE'S WHAT YOU NEED TO KNOW…
ALL BOXING PROGRAMS ARE DROP-OFF AND PICK-UP:
Wait outside in cars or spaced out in parking lot. Due to limited parking, it may be best to use the front parking area and walk younger children to our entrance.
Arrive no earlier than 5 minutes before the session starts.
To avoid loss of session, if you cannot make the session, please cancel through account or reply on the confirmation email – minimum 12 hours in advance.
Account Login: Ensure your information is updated so we can communicate any updates
WHAT TO BRING
Boxing Gloves & Wraps – In the case that you do not have equipment yet, please order online prior to your session: Buy Now
Come dressed and ready to train, including your workout shoes. Also ensure you have wrapped your hands before the start: How to wrap
Bring a full water bottle
Avoid bringing large bags, we know you may be coming from school, so we will have cubbies
WHAT TO EXPECT IN CLASS
Classes are run by Boxing Ontario, Nationally Certified Coaches. Participants can expect to learn the technical movement and mechanics of boxing, along with being challenged physically in a whole new way. The classes offered at Kingsway Boxing are suitable for all fitness levels!
We've had incredible success with our kids and youth programs for over 15 years, proving to be one of our most popular programs. We look forward to welcoming our boxers back year after year and opening the doors to others looking to share in the experience.
---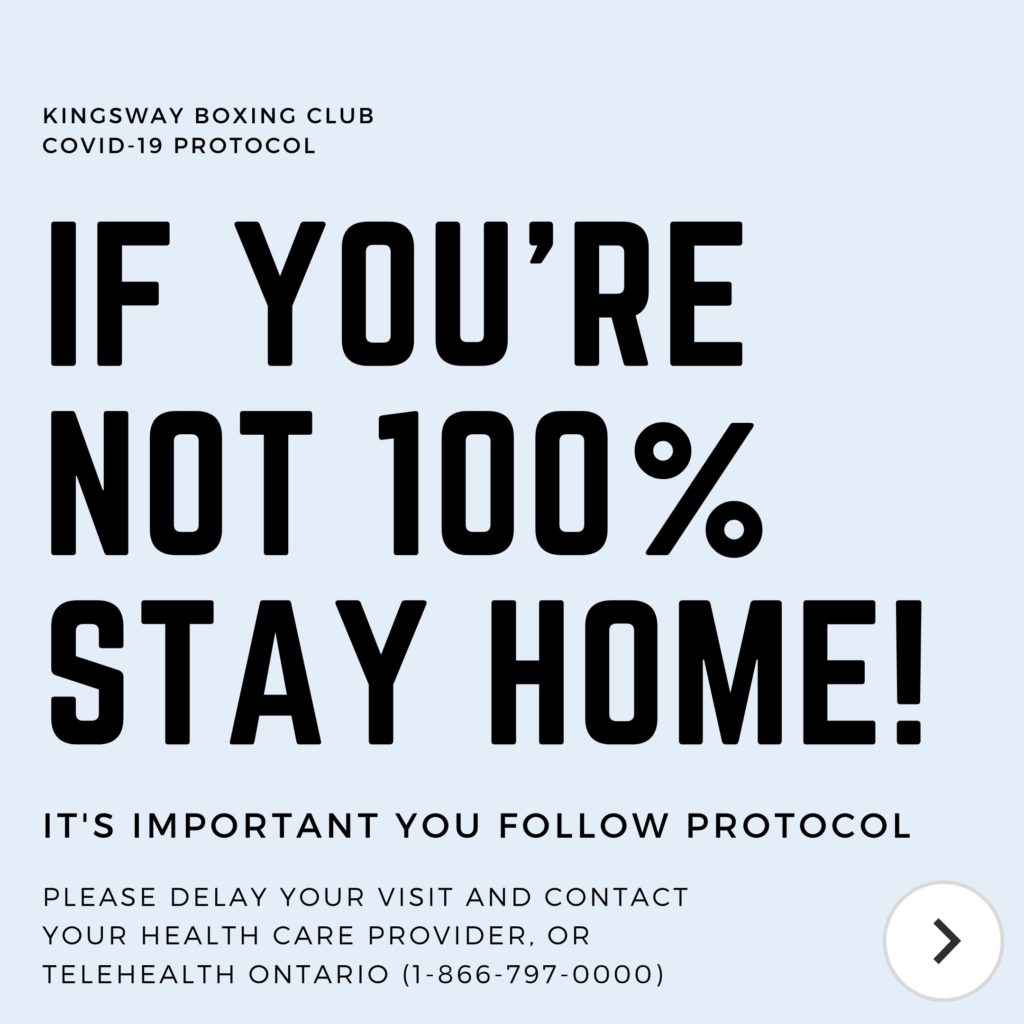 As we build routines, return to work and kids go back to school, it's important to continue keeping our community safe! Please be aware of any possible symptoms and contact us if you're unsure.
Our staff, trainers and coaches will be following strict protocols limiting contact and ensuring the safety of our clients. In addition to cleaning in between clients and classes, a deep clean and sanitization of all locations are conducted at the beginning and end of each day.
Thank you for your support!