Proudly Introducing Thai Kickboxing By Jacqueline Walters
Posted on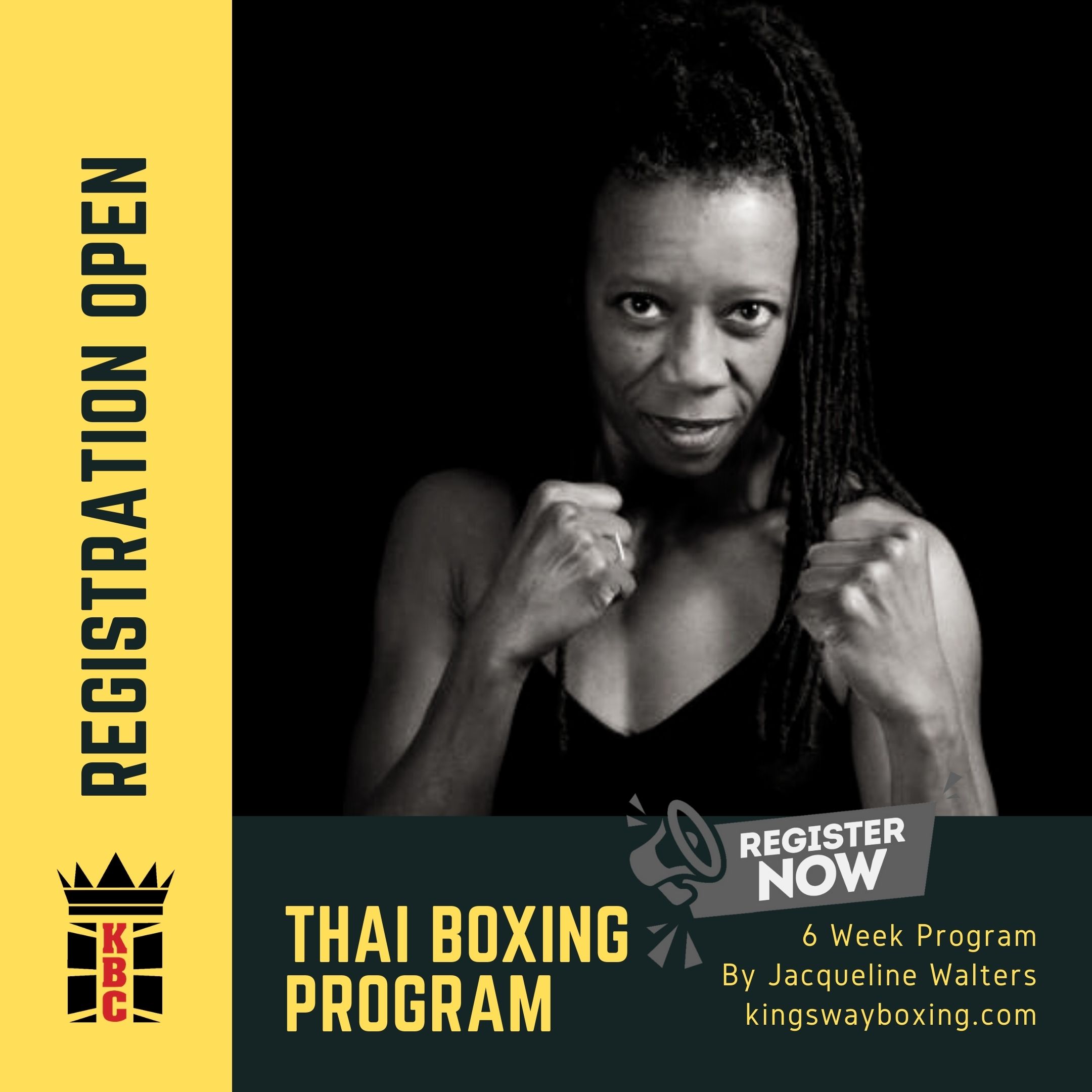 These classes are conducted at our fully-renovated High Performance Studios, incorporating strengthening, conditioning and the fundamentals of Kickboxing!
🥊 Learn the Art of 8 Limbs in this 6-week Thai Kickboxing class. Heighten your cardio, improve your strength, and learn how to introduce elbows, knees and kicks into your combative arsenal of traditional boxing strikes.
🥊 Balance is crucial to one's efficiency when striking with the lower body, so we work extensively on enhancing core strength with balance-based body-weight strength training. Partner pad work will help you learn how to strike on target with strength and proper format.
🥊 Can't kick to the head yet? This program also works on your flexibility. It also focuses on progressive learning, so basic skills become the building blocks for more complex combinations.
🥊 As a member of the national team and an A-Level international referee, Jacqueline will teach you the basic combos used by Team Canada. Mixed-level class allows for novice and experienced participants. Take your boxing skills to the next level, or try it out for the very first time. All welcome.
---
⚠️ IMPORTANT NOTE: – LOCKDOWN PROTOCOLS IN EFFECT: This program will be shifting to a virtual format effective immediately. Please use the login information provided – Participants also have access to the recorded session in case they miss the live version. Thank you for your patience and support!
WINTER PROGRAM START DATE: Wednesday, January 6, 2021
Every Wednesday: 6:30 pm – 7:15 pm
Course Duration: 8 Week Program | Jan. 5 – Feb. 24, 2021
Location: Lockdown Protocols In Effect — Virtual Access High-Performance Studios | 3046 Bloor St. W.
Program Cost: $225.00 Regular Cost | Early Bird Rate: $200.00 Must Register 2 weeks prior to the course start date to be eligible for Early Bird Rates. (If this program is already in session. Please Contact Us for prorated options.)
---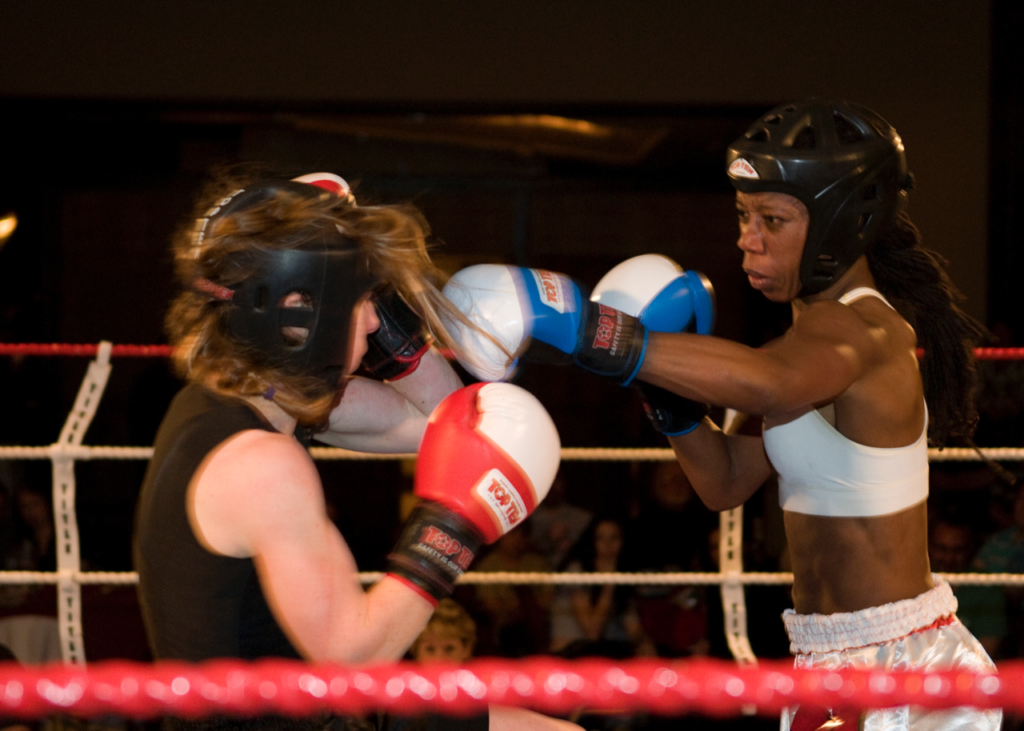 About Jacqueline Walters
Jacqueline Walters is a 4-time Canadian Kickboxing Champion in the 60kg, K1 Division, representing Canada at the World Championships in 2009 and 2011. Having trained and/or competed in Thailand, Europe, Africa, North and South America, Jacqueline is now Canada's only A-Level, internationally-sanctioned Kickboxing Ring Referee with the World Association of Kickboxing Organizations (WAKO). She is also a Chief Official with WAKO Canada, a Kickboxing coach and instructor. As an ACE-certified Personal trainer, Jacqueline continues to train clients individually and in group settings. Her love of the sport, and fitness in general is what inspires her to help others stay healthy through recreational and/or competitive sport.
---
ALREADY REGISTERED? KEEP UPDATED WITH CORRESPONDENCE BELOW:
Here are a few things you should know before we get started:
COVID-19 PROTOCOLS
Wearing a mask is mandatory when you enter and exit KBC High Performance Studios. You may take it off once you get into position on the floor.
Please line up outside KBC High Performance Studios along Bloor St. Spaces are indicated on the sidewalk. Arrive no earlier than 5 minutes before the session starts.
Hand sanitizer will be available upon arrival.
You will have your own floor space, indicated with a small pylon. Please stay in your "area".
If you cannot make the session, please text Jacqueline a minimum 24 hours in advance. This is important for contact tracing.
WHAT TO BRING
Bring basic workout clothing and indoor shoes
Towel and water bottle
Must use personal boxing items (can be purchased from our website)
Please try to bring the least amount of clothing and gear as possible. There will be cubbies available for your bags and coats that will be sanitized after every class.
---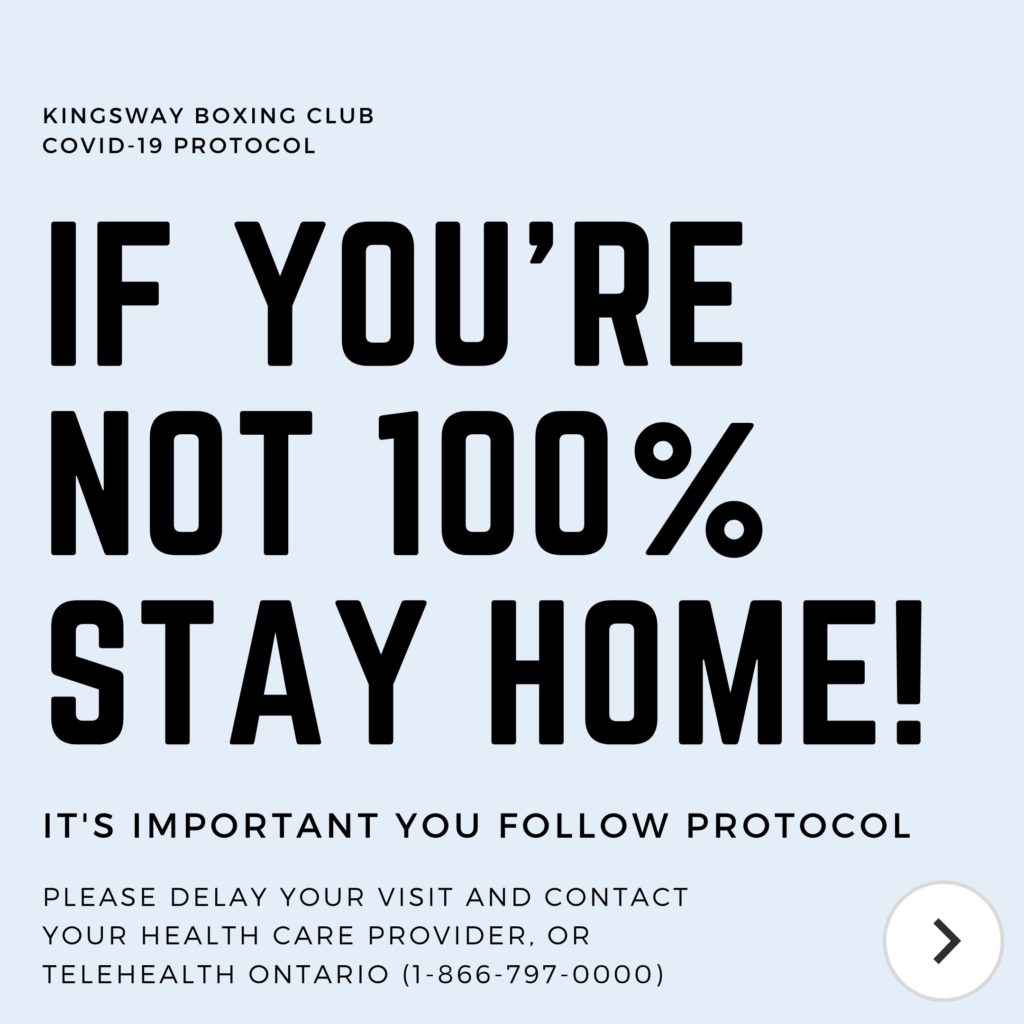 The Kingsway Boxing Family has been back to training since June. As we build routines, return to work and kids go back to school, it's important to continue keeping our community safe! Please be aware of any possible symptoms and contact us if you're unsure.
Our staff, trainers and coaches will be following strict protocols limiting contact and ensuring the safety of our clients. In addition to cleaning in between clients and classes, a deep clean and sanitization of all locations are conducted at the beginning and end of each day.
Thank you for your support!
---
Program Update | Jacqueline Walters
Jan. 25/2021
Hi Guys.
Check this out!!! Now you can do a variety of our kickboxing classes throughout the week thanks to Kingsway Boxing's partnership with Beaver Boxing. There is library of our classes online at the link in Jennifer's email below.
We have our own special password to access our Thai Kickboxing classes. The password is available only to registered participants. I believe this is a limited program, so please take advantage of the opportunity to workout more than once a week, particularly if you're not doing any other fitness programs.
I'll be doing a session or two myself. As always, please let me know if you have something particular you'd like to work on. These sessions are for you.
Have a great weekend. Stay warm and see you on Wednesday for class.
Jacqueline
We don't stop playing because we grow old. We grow old because we stop playing.~~George Bernard Shaw~~
---
Program Update | Jacqueline Walters
Jan. 19/2021
Hi all.
Alex P and I had a great session last week but we missed the rest of you. Hopefully you had a chance to do the workout on your own during the week. I'm structuring the classes to build on foundational skills so that we can ramp up right away once we're back in the studio which I'm optimistic will be shortly after lockdown ends.
Last week was isometric and balance-focussed. This week will be cardio. You'll need three towels – two smaller ones for gliders and a big one for sweat!!
If you have any questions, or workout requests, let me know. See you at 6:30 on Wednesday!
Jacqueline
We don't stop playing because we grow old. We grow old because we stop playing.~~George Bernard Shaw~~
---
Program Update | Jacqueline Walters
Dec. 19/2020
First my apologies for messing up Zoom for our last class. I hope you've been able to do the recorded session on your own time. I'm going to do it again this weekend. It was a great cardio and strength session!
Secondly, I want to encourage you all to register for the next 8 week session, beginning Jan 6. Hopefully we'll be able to get back in the studio in January to continue with our skills training. Until that happens, we still have our Zoom sessions. (I promise not to make the same mistake in setting up future sessions!)
January is always a key time for getting back to our healthy routine after the excesses of the holidays. Registration details are on the Kingsway Boxing website.
Til then, I wish you a happy and safe holiday. For whatever you celebrate, Merry Christma-kwanz-ukkah!
Looking forward to seeing you in 2021.
---
Program Update | Jacqueline Walters
Dec. 16/2020
Hi everybody.
Last class of 2020 tonight. Hope to see you all live on Zoom at 6:30. Would be great to have a quick celebration of holiday cheer afterwards. (You'll need it!!)
Our next session starts January 6 for 8 weeks. Keep in mind how important it is to keep moving after the excesses of the holidays. Not only does your body need to keep moving, but it's also important for your mental health to stay physically active. So please register to secure your spot.
Have a great day and see you tonight! It'll be a tough one. If you can't make it live, the class will be recorded as per usual.
Jacqueline
"We don't stop playing because we grow old. We grow old because we stop playing." ~~George Bernard Shaw~~
---
Program Update | Jacqueline Walters
Nov. 25/2020
Hi Thai Kickboxers.
Thank you for your patience as we navigate through the rapidly changing rules of the provincial lockdown. You may have already received Jennifer's e-mail below, but I wanted to touch base with you all to ensure you're all informed about class during the lockdown.
We'll be going virtual with our Thai Kickboxing sessions effective tomorrow, Wednesday, November 25. **PLEASE NOTE THE REVISED CLASS TIME – 6:30 – 7:15 p.m. This is to allow us to share the KBC Zoom access. Please see below, "Next Steps", and click on Schedule to log into class. I'll be online as of 6:25 p.m. and will begin class at 6:30 sharp.
Please make sure you have enough room to move. I've taught Zoom Kickboxing classes before, so I take into account that space may be limited for some of us!! Just make sure that you have room to kick without obstruction. I can't be held liable if you break Aunt Mabel's heirloom vase!! Emoji
Let me know if any questions. You have my e-mail and my cell number is below.
Lockdown be damned. Let's keep Kicking. Keep your hands up and your spirit as well.
See y'all tomorrow at 6:30 p.m.!!!
"We don't stop playing because we grow old. We grow old because we stop playing." ~~George Bernard Shaw~~
---
Program Update | Jacqueline Walters
Sept. 29/2020
Hi everyone.

Hope all's well and you're ready for class tomorrow. Looking forward to our next session with some knees and elbows. BTW, if you have a mouthguard, feel free to bring it.

More importantly, please make sure you're feeling healthy and free from any of the symptoms of Covid-19. This includes anyone in your household.

Also, as mentioned in class, the next Kickboxing session will be building on the basics learned so far. Remember to sign up to secure your spot. And to join the Kingsway Boxing What's App Client group, let me know tomorrow in class and I'll give you the details.

See you all tomorrow!

"We don't stop playing because we grow old. We grow old because we stop playing." ~~George Bernard Shaw~~
---
Program Update | Jacqueline Walters
Sept. 15/2020
Hi Thai Kickboxers.

Great class last week. Hope you're ready to do it again. We'll be kicking it up a notch this week so make sure you bring all your equipment with you. Mask, gloves, wraps, water, towel and major attitude!!
We'll start working with pads for those of you who feel comfortable with it…coz hitting something is so much better than hitting air!
See you Wednesday at 6:00. Please come wrapped, dressed and ready to roll.
"We don't stop playing because we grow old. We grow old because we stop playing." ~~George Bernard Shaw~~
---