OUTDOOR BOOTCAMP With Jo-Anne Sheffield
Posted on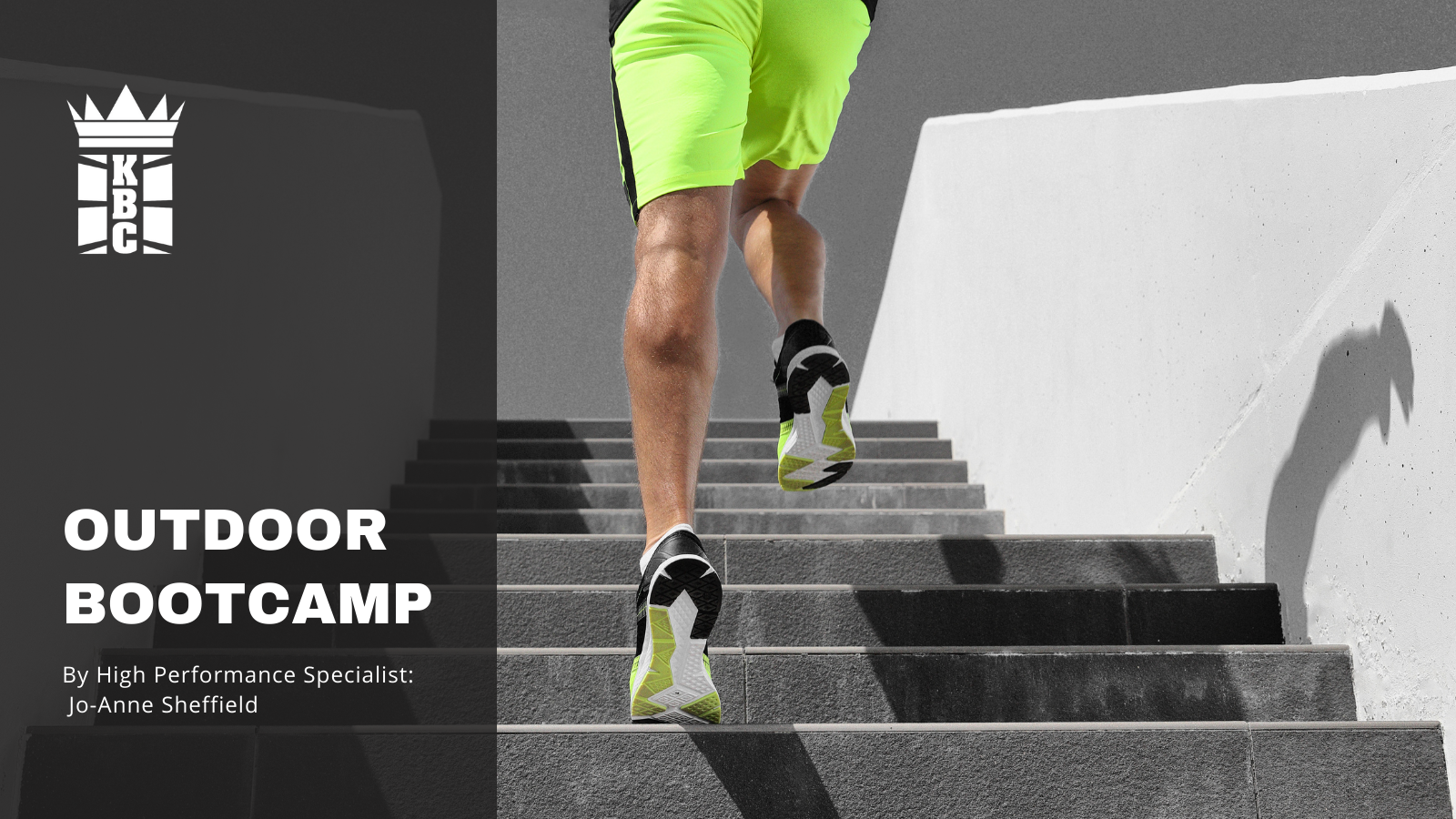 ---
Longing to do an outdoor group workout?
Join Jo-Anne Sheffield, Kingsway Boxing High Performance Trainer and seasoned marathoner, in an outdoor group training session.
---
What is BOOTCAMP?
Bootcamp will incorporate cardio, strength and drills in a fun 45 minute class. All fitness and running levels are welcome and encouraged. Enjoy an outdoor group program, meet new people, and get a great workout!
Workout Includes:
✅ Each session is 45 minutes in length
✅ Sessions are designed to be continually moving with stimulating
✅ Functional exercises with little or no equipment
✅ Enjoy the camaraderie of your fellow participants (all socially-distanced, of course)
✅ Rain or shine, so dress to run in all weather conditions
---
BOOTCAMP – Outdoor PROGRAM OPTIONS
---
Program Start Date: Jun. 17, 2021
Every Thursday: 5:30 pm – 6:15 pm
Course Duration: 6 Week Program | Jun. 17 – Jul. 29, 2021
Location: TBD
Program Cost: $120.00 Regular Cost. If this program is already in session. Please Contact Us for prorated options.
---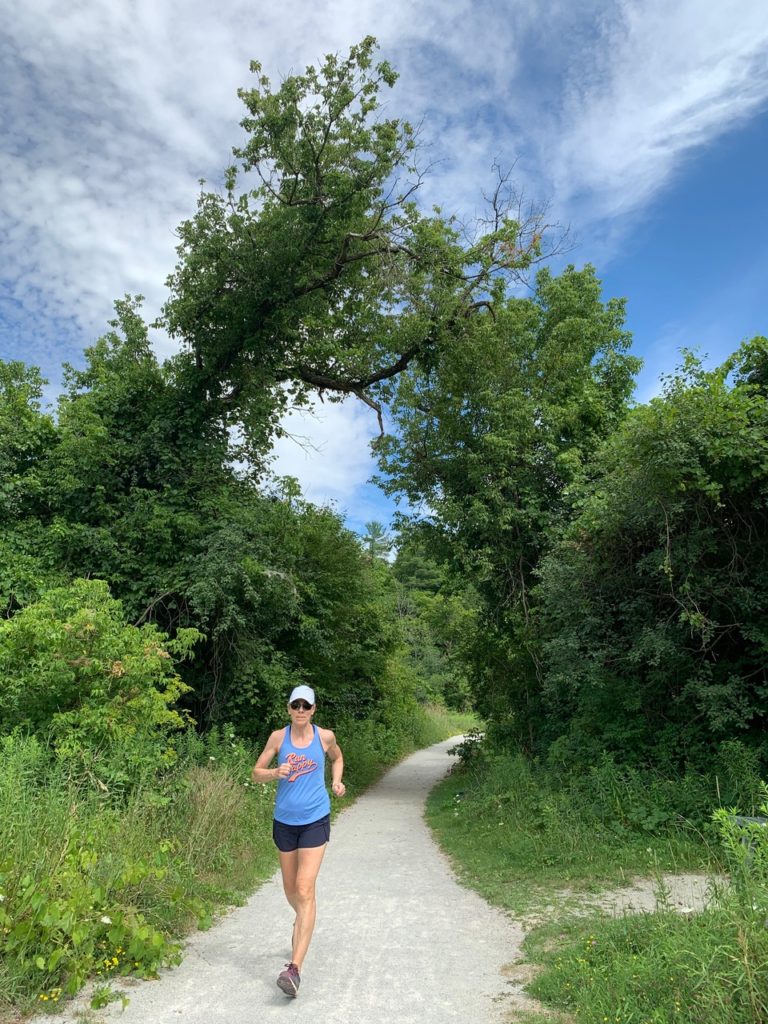 Jo-Anne Sheffield | High Performance Instructor, Personal Trainer
Jo-Anne is a Certified Personal Trainer and Group Fitness Instructor who brings a commitment to health and fitness, combined with enthusiasm and experience to create fun, high energy and athletic classes. An avid runner and marathoner Jo-Anne believes cross training is an important part of developing overall fitness and her classes are designed to strengthen muscles, maintain a strong core, increase cardiovascular output and promote flexibility.
Jo-Anne's motto is "Just keep moving" and while she has run many races she is particularly proud of her two Boston marathon finishes.
Certifications:
CanFitPro PTS, CanFitPro FIS, CanFitPro Active Aging Certificate, CPR-A
---
Here are a few things you should know before we get started:
COVID-19 PROTOCOLS
Wear a mask when we first meet at the parkette. You may take it off once we start moving. Tuck it in your shorts so you can bring it with you.
Meet at the Parkette behind the Brentwood Library. This will give us space to warm up and gather without getting in the way of Saturday shoppers along Bloor.
Be punctual. Please arrive on time so we can move together.
Hand sanitizer will be distributed (if required) before we start the session.
Try to stay 6' apart when we are moving AND when we are stopping for our strength workouts unless you are with the same family or bubble group.
Try to run single file on sidewalks. Many pedestrians are nervous of runners right now and seeing a large group running can make them extra anxious.
If you cannot make the session, please text me a minimum 24 hours in advance. This is important for contact tracing.
WHAT TO BRING
Muscle + Run will proceed rain or shine. If stormy weather is forecasted I will contact you to reschedule. Please ensure your cell number is up-to-date in your MindBody account so I can text you.
Wear weather appropriate clothing. If you are new to running please remember to dress for the finish line and not the start line. Meaning do not overdress. You will get hot. Wear a hat, sunscreen and gloves (if coolish day).
Bring a water bottle that you can carry. Hand-held bottles are great and can be obtained at any sports store. I will be bringing a backpack with extra water for emergencies only.
Do not bring any valuables on the run.
WHAT TO EXPECT ON THE MUSCLE + RUN
We will run/walk around the Kingsway/Sunnylea/Islington neighbourhoods with stops for strength training. You can expect to do push ups, sprints, hill repeats, burpees, squat jumps and all kinds of fun things! (Ok, maybe only I think they're fun!) so come prepared to sweat, have fun and get fit(ter).
We run together. That's our Muscle + Run group motto. Stay with the group. We will all move together through traffic lights and cross walks. The faster people will wait for the slower, no one leaves the group.
No equipment is necessary. I will be giving you a resistance band (new) to use for some of the strength training. These bands can easily be wrapped around the hand or wrist to carry as we run. For those of you who were on the previous Muscle + Run session you will already have the bands. We won't need them for our first session and I will email you to bring them when required.
---
[ARCHIVE] Keep Up With Correspondence Sent Out To Program Participants
---
⚠️Program Update⚠️
Jun. 14/2021
Good Morning Muscle+Run and Bootcamp Registrants,
I regret to inform you that Jo-Anne has suffered a serious injury and needs this week to assess the severity and treatment. We will be in touch within the next few days to update you on the possibility of starting next week or the potential of substituting coaches.
We're so sorry for the inconvenience and will be communicating throughout the week.
Please note that we are offering conditioning and boxing classes and will be adding more each week: RESERVE CLASSES
Please do not hesitate to call me directly with any questions or concerns. Thank you so much in advance for your understanding.
In The Meantime, Keep Your Hands Up… And Clean! 👊
Best Regards,
Jennifer Huggins
Program Update | Jo-Anne Sheffield
Jun. 08/2021
Hello and Happy Monday!
I'm fairly certain we are going to get the go ahead to do outdoor classes starting June 15th, so I'm going to say it – BOOTCAMP IS A GO!
Now that the weather is scorching hot, please dress in lightweight gear, bring a towel, wear a hat, sunscreen and of course, bring water and a MAT.
If you are also registered for Muscle Run I will send a separate email.
BOOTCAMP DETAILS
Thursday, June 15 – July 29 – NO CLASS JULY 1
See map for location
5:30 – 6:15pm
If inclement weather, I'll contact you and we'll postpone or reschedule
Masks are not required for outdoor workouts but if you feel more comfortable wearing one, please do so. Disposable masks are lightweight and I find it easier to breathe in.
Please let me know if you have any questions or concerns. I can't wait to actually see you again. This has been the longest 6 months of my life!
Jo-Anne
Here is the location. You can approach it by car from Riverwood Parkway and then along the park road called Humber Valley Road. If you did Muscle Run with me last year we did one of our runs here.
Program Update | Jo-Anne Sheffield
May. 25/2021
Hello and Happy Victoria Day.
Well, here we are almost half way through the year and it looks like🤞we may be able to workout together soon. If we get the go ahead, Bootcamp will start Thursday June 17 and run until July 29. Note: No class on Thursday July 1st.
I am really excited to get back to working out with you all. Please note my husband and I are hoping that we will have time to visit family abroad over the summer and I will keep you posted closer to that time if that happens to be the case.
Once I hear confirmation from the government about moving into this next stage I will send an email and confirm these plans.
See you soon.
Jo-Anne
Program Update | Jo-Anne Sheffield
Apr. 05/2021
Hello and I hope you had a lovely Easter weekend.
As you've heard, while Toronto barely opened for outdoor training, the province is back on lockdown, emergency brake, dark grey zone, or stay at home order unless you need to go to the mall or big box stores until April 28. 😬
Our first two classes Thursday April 15 and April 22 will be postponed and I will add them on to the end of the session. Fingers crossed this lockdown doesn't get pushed back any further into May but I will try to keep you updated.
Please feel free to contact me with any questions and thanks for your patience and support.
Jo-Anne