HIIT Is Back With A New Small Group Format!
Posted on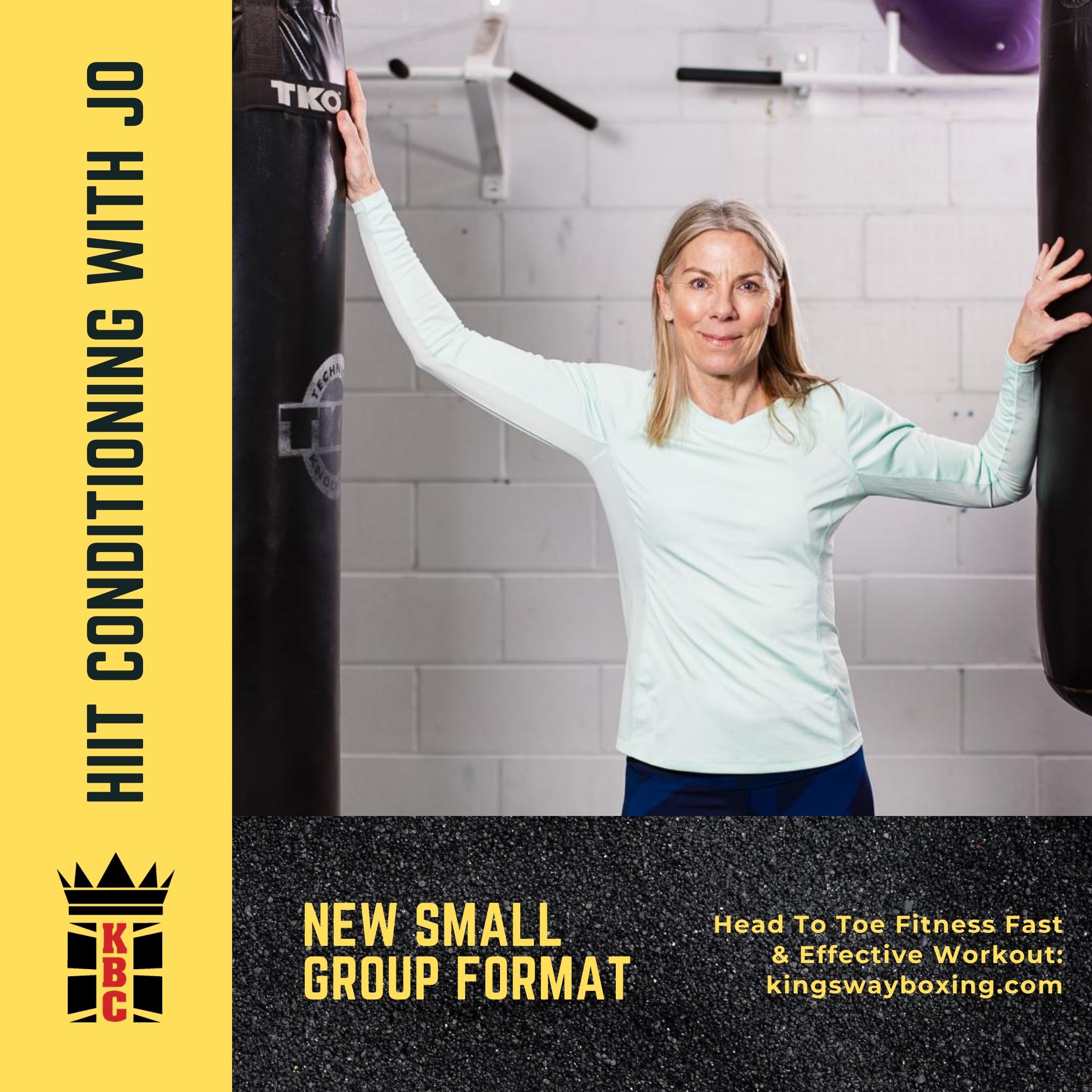 ---
Adapted to our new small group, physically distanced format, HIIT Conditioning incorporates interval training, functional fitness, strength training, and stretching and is suitable for all fitness levels.
Our exclusive HIIT conditioning programs, brought to you by Jo-Anne Sheffield, are conducted at our fully renovated High Performance Studio with select classes offered virtually for access anytime, anywhere! Each class incorporates head to toe fitness into a fast and effective workout.
Interval training breaks up a set amount of exercises into small segments with recovery intervals in between to enhance the accomplishment of each exercise. This type of training maximizes calorie burn and improves overall performance.
What to bring? All you need is your water bottle and towel. It will get sweaty!
---
⚠️ IMPORTANT NOTE: – LOCKDOWN PROTOCOLS IN EFFECT: This program will be shifting to a virtual format effective immediately. Please use the login information provided – Participants also have access to the recorded session in case they miss the live version. Thank you for your patience and support!
[WINTER: JAN-FEB 2021] HIIT CONDITIONING PROGRAMS
January Start Date: Thursday, Jan. 07, 2020
Every Thursday: 6 pm – 6:45 pm
Course Duration: 8 Week Program | Jan. 07 – Feb. 25
Location: VIRTUAL ACCESS LINK (lockdown protocol in effect) High-Performance Studios | 3046 Bloor St. W.
Program Options: $225.00 Regular Cost | Early Bird Rate: $200.00 Must Register 2 weeks prior to the course start date to be eligible for Early Bird Rates.
---
MEET JO-ANNE SHEFFIELD
---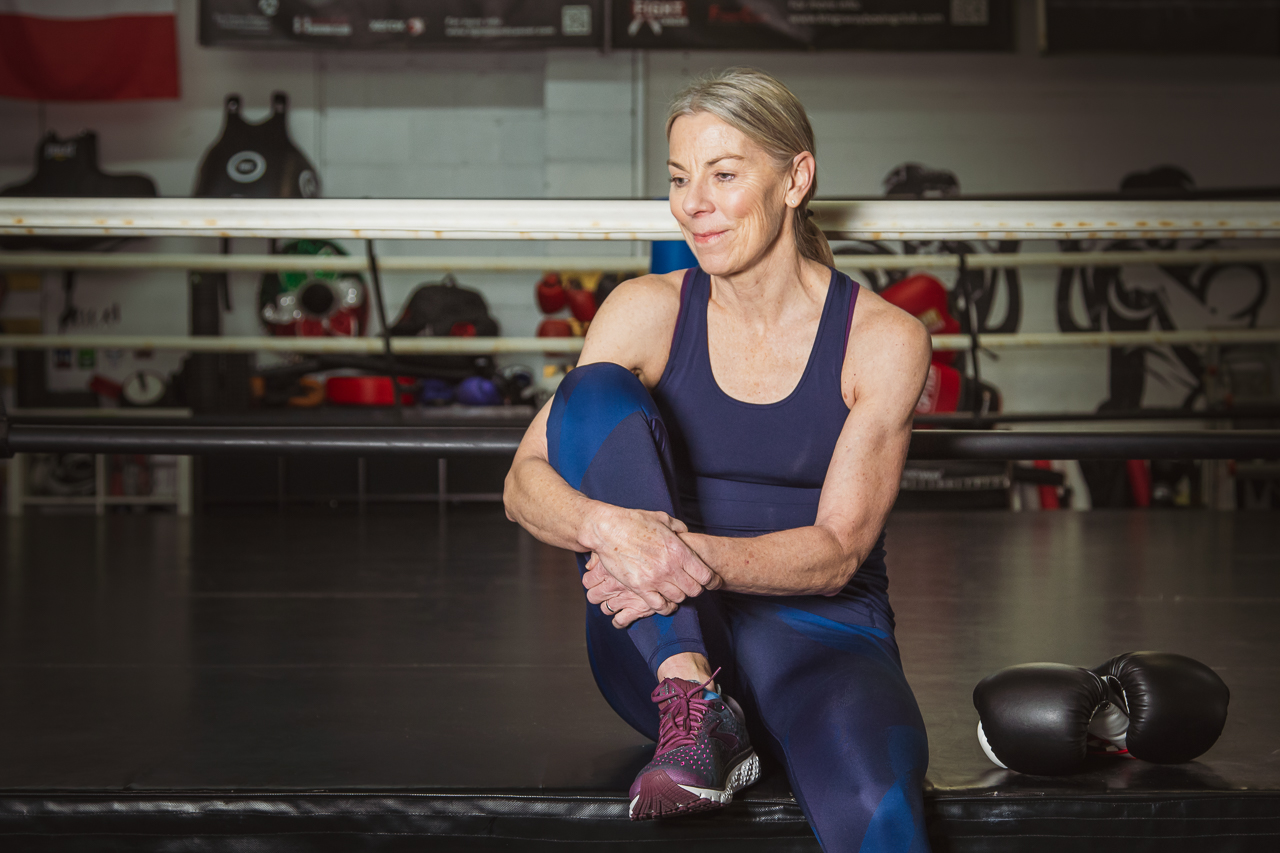 High Performance Instructor | Personal Trainer
Jo-Anne is a Certified Personal Trainer and Group Fitness Instructor who brings a commitment to health and fitness, combined with enthusiasm and experience to create fun, high energy and athletic classes. An avid runner and marathoner Jo-Anne believes cross training is an important part of developing overall fitness and her classes are designed to strengthen muscles, maintain a strong core, increase cardiovascular output and promote flexibility.
Jo-Anne's motto is "Just keep moving" and while she has run many races she is particularly proud of her two Boston marathon finishes.
Certifications:
CanFitPro PTS, CanFitPro FIS, CanFitPro Active Aging Certificate, CPR-A
ALREADY REGISTERED? KEEP UPDATED WITH CORRESPONDENCE BELOW:
Here are a few things you should know before we get started:
COVID-19 PROTOCOLS
Wearing a mask is mandatory when you enter and exit KBC High Performance Studios. You may take it off once you get into position on the floor.
Please line up outside KBC High Performance Studios along Bloor St. Spaces are indicated on the sidewalk. Arrive no earlier than 5 minutes before the session starts. But also, please don't be late. I will come and get you once the class is ready to begin.
Hand sanitizer will be available upon arrival.
You will have your own floor space, indicated with a small pylon. Please stay in your "area".
If you cannot make the session, please text Colleen a minimum 24 hours in advance. This is important for contact tracing.
WHAT TO BRING
Bring a water bottle and a small towel. We have plenty of weights, bands and mats that are thoroughly sanitized when each class has ended. No need to bring your own equipment. I will have everything set up for you, so you don't have to grab anything.
Please try to bring the least amount of clothing and gear as possible. There will be cubbies available for your bags and coats that will be sanitized after every class.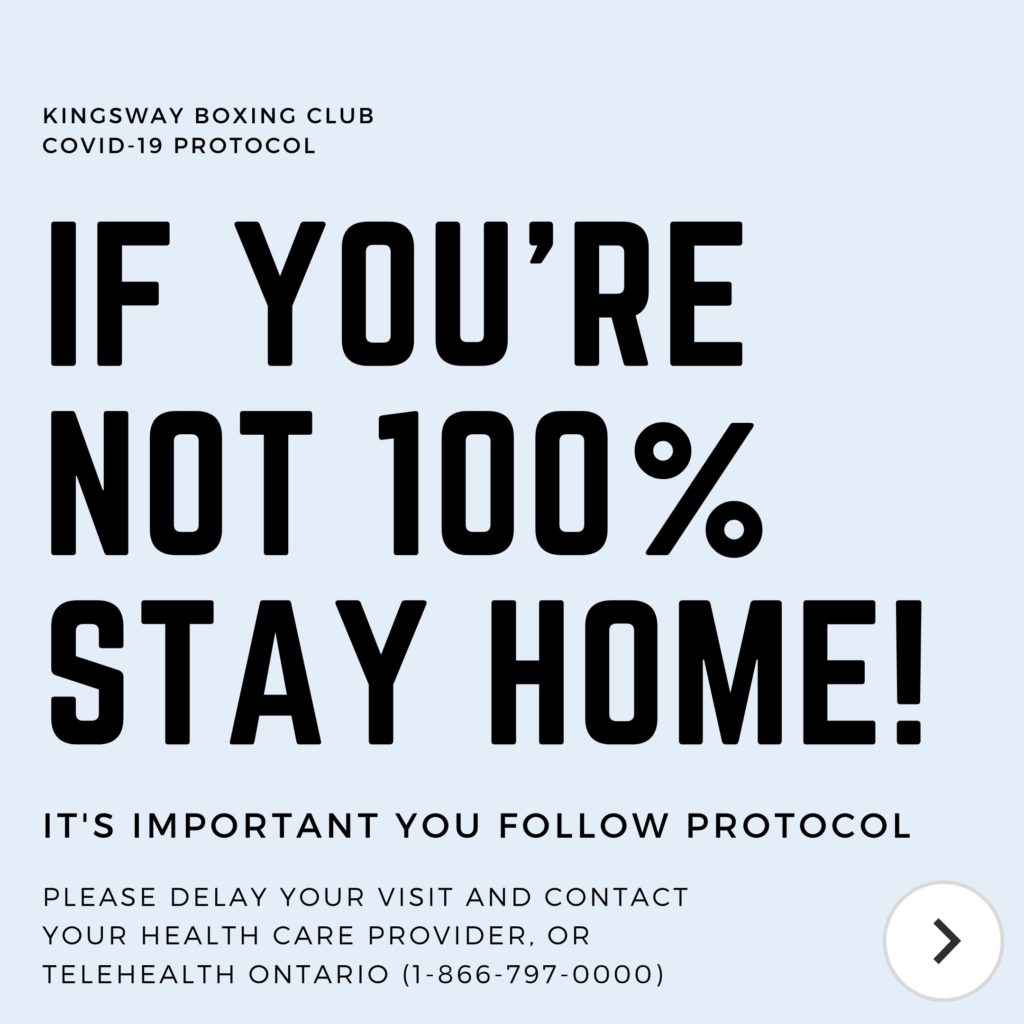 The Kingsway Boxing Family has been back to training since June. As we build routines, return to work and kids go back to school, it's important to continue keeping our community safe! Please be aware of any possible symptoms and contact us if you're unsure.
Our staff, trainers and coaches will be following strict protocols limiting contact and ensuring the safety of our clients. In addition to cleaning in between clients and classes, a deep clean and sanitization of all locations are conducted at the beginning and end of each day.
Thank you for your support!
---
Program Update | Jo-Anne Sheffield
Feb. 15, 2021
Hi and Happy Family Day!
I hope you're having a loving weekend 💓
Here is the link for registration for the next Thursday HIIT session that runs March 4 – April 22.
👇
https://kingswayboxingclub.com/schedule/seasonal-enrolments/
These will be virtual classes unless we hear that we can have small in-person groups in the next few weeks. I will then make this class a hybrid of both virtual and in-person and give you the option to do one or the other, or both!
Please let me know if you have any questions or requests for specific exercises for the class.
'See you' Thursday!
Jo-Anne
---
Program Update | Jo-Anne Sheffield
Feb. 08, 2021
Hi,
I hope you are well and staying warm. I walked a lot this weekend and felt like I was walking with a parade as there were so many people out doing the same thing. If one good thing comes out of this pandemic it's that we have realized how important it is to keep moving – no matter the weather. ❄
My Thursday night 6:00pm HIIT classes will continue virtually into March and April. We still are not aware of a timeframe for allowing small groups to gather inside but when we do the class will be offered as a hybrid – in-person AND virtual – so we can continue to workout whatever is most comfortable for you.
I would like to get a read on your participation for future classes. Could you kindly reply with a YES, I'M IN or a NO, THANKS so I can get an idea of your interest going forward?
Also, note I will be bringing Muscle + Run back this spring so we will have an outdoor option again soon too. 😉
I know you have choices for your workout partner and I really do appreciate your continued support. 💓
Best,
Jo-Anne
---
Program Update | Jo-Anne Sheffield
Jan. 21, 2021
Good morning. 👋
Don't you feel a little lighter today, like we've been lifted up? Watching Kamala Harris take the oath yesterday was truly inspiring for all women, young and old alike.
Ok so now that I've got you feeling bright and ready for the day, are there any special requests for tonight's HIIT class? Is it challenging enough for you?
Let me know if I can change it in any way to best suit you.
I was going to use a resistance band for some of the class tonight. If you don't have one, no worries, you can do it without.
'See you tonight'. 💓
Jo-Anne
---
Program Update | Jo-Anne Sheffield
Dec. 15, 2020
Hi, 👋
Here's an update on my Thursday night HIIT class starting. I've had my fingers crossed that we would be in the studio again in January but it's not looking likely so my HIIT class on Thursday at 6:00pm will remain virtual until we get the all clear to return to in-person classes.
I wanted to thank you for your continued support of my classes. I don't need to remind you what a strange year it's been but knowing that we're all together, albeit virtually, has been rewarding and comforting at the same time.
Here are the details and the link to register. Early bird pricing is in effect so register soon to save.
DATES
January 7 – February 25, 2021
LIVE
Thursday, 6 – 6:45pm
RECORDING
A recording of the class will be emailed to you so you can do it at your convenience.
👇REGISTER HERE 👇
https://kingswayboxingclub.com/schedule/seasonal-enrolments/
Big virtual hugs, 💓
Jo-Anne
---
Program Update | Jo-Anne Sheffield
Nov. 25, 2020
Hi, 👋
I hope you're doing well. As we are now in another lockdown (what a year!) I have switched my Thursday HIIT classes to virtual and wondered if you wanted to join me for a sweaty, fast paced workout right in your own home.😰
The live class will be three Thursday's in December – 3, 10, 17 at 6:00pm. If you can't join me live, you will be sent the recording so you can do the class anytime that suits you within a 7-10 day window.
Register here 👇
https://kingswayboxingclub.com/hiit-is-back-with-a-new-small-group-format/
Be well my HIIT friends. I do hope we can all be together in-person sometime very soon. 💓
Jo-Anne
---
Program Update | Jo-Anne Sheffield
Nov. 12, 2020
Hi and happy hump day!
🐫 Just wanted to connect to say thank you so much for your energy and enthusiasm for Muscle + Run. Many of you have been doing this with me since September and I hope you're seeing an improvement to your running endurance and overall fitness.
We will be proceeding as our group has grown to eight registered participants and I know a couple of you are going to join us for one or two if you can.
Also confirming that for this week only we start at 1:00pm and will meet at our usual spot at the parkette behind Brentwood library on Montgomery. The following two weeks will start at 10:15am as usual. Thank you for adjusting your schedules for me. 🙏
If you have any requests for types of workouts or run techniques, please let me know. I would like to incorporate a speed session or two for the next three weeks so we'll find a school track and tear it up with some 100, 200 and 400m drills. 🌪 Plus of course, lots of strength training will be included.
💪See you Saturday.
---
Program Update | Jo-Anne Sheffield
Oct. 20/2020
Hi and Happy Tuesday,
Our new session of HIIT starts on Thursday and I wanted to review a few things with you before we start.
COVID SCREENING TOOL
Please complete the online COVID screening tool before you arrive. I will ask to see your confirmation email (on your phone is best) before you enter the studio. 👇
https://kingswayboxingclub.com/kbc-response-to-covid-19/
MODIFIED STAGE 2 WORKOUT
As part of the province's modified stage 2, our next couple of sessions will be focused on technical, strength training using bodyweight only. But don't worry, we'll still be doing it in intervals, you will still be sweating, and it will still be a great workout. 💪
ARRIVAL
As before, please arrive on time and ready to work out. Also, if inclement weather, please bring indoor shoes otherwise wear what you're going to workout in. Note: Coats can be hung up at the door.
Masks must be worn upon arrival and departure of the studio.
Please let me know if you have any questions or concerns and I look forward to seeing you on Thursday.
Best,
---
Programs Update | Jo-Anne Sheffield
Oct. 12, 2020
Hi and Happy Thanksgiving. 🦃
I hope you're having a wonderful weekend. I wanted to check in and let you know that Kingsway Boxing Club is still open. I'm sure you've received communication from Jennifer but if not, because we are part of Boxing Ontario as a Provincial Sport Organization we can remain open BUT each person in the studio must have a Boxing Ontario membership.
If you do not have one could you please go to the second step on this link and purchase the Boxing Ontario membership before our class on Thursday?
https://kingswayboxingclub.com/kbc-response-to-covid-19/
Many thanks. Please let me know if you have any questions.
---
Program Update | Jo-Anne Sheffield
Sept. 24, 2020
Hello, 👋
I hope you've been able to get outside and enjoy this glorious fall weather.
I wanted to check in with you as we head into our third week of HIIT at KBC. With the local COVID-19 numbers going in the wrong direction there's been lots of talk about 'what's next'. Well, like you I'm not sure but one thing I am POSITIVE of is that we are all doing an awesome job with our safety protocols at the studio. So thank you for that. 🙏 We started doing the extra hand sanitizing before leaving the studio last week, so let's continue going forward. If you are feeling unwell or are unable to attend the class, please text or email so I can keep track of you for our KBC contact tracing.
Also, I now have the next HIIT session up on the KBC site so if you are interested in continuing with this class for the next session (October 22-November 26), please register right away to reserve a spot. The 6:00pm class sells out fast and currently there are 4 spots available. But don't despair if you can't get a spot in that class, the 7:00pm class is still another option.
REGISTER HERE 👇
https://kingswayboxingclub.com/schedule/seasonal-enrolments/
See you tonight. 💪
---