[Program Update] Personal Note From Jen
Posted on
---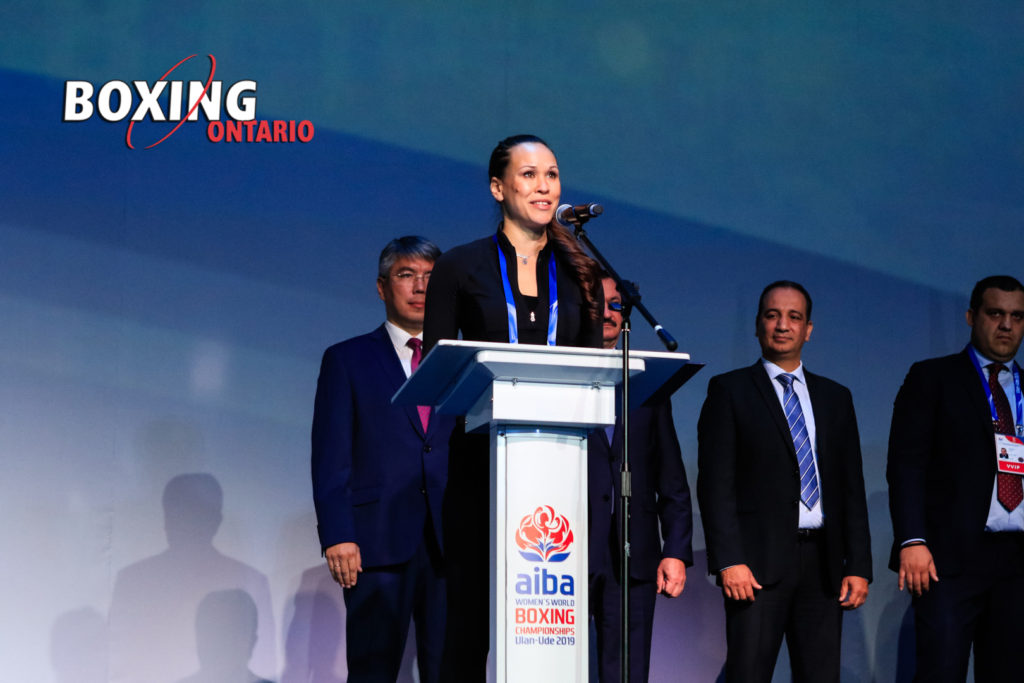 ---
Dear Parents, Kids and Teens,
Our Fall Kids and Teen Program are nearing completion or have completed (see below for end dates). Thank you to those who have already enrolled for the Winter 2020 Programs!
I have personally been missing my time with the kids this season however I wanted to update you on what's going on! I was honoured to be elected as Boxing Ontario's President last month and am just settling into the position. Due to the Tokyo 2020 Olympics, I have also been selected to officiate (referee and judge) around the world for the Olympic Boxing Qualifiers. You can follow along as I head out to Australia next then back to Quebec at the end of the year (full story). The most incredible takeaway from this experience, is to see that the boxers right here at Kingsway Boxing Club are heading in the direction of these world class athletes!
Virg, Phil and the team have been updating me with how awesome the boxers have been progressing. Thank you for being so understanding of my absence, please let the kids and teens know how much I miss them. I look forward to catching up with everyone in the Winter Season!
~ Jen
PS. You can follow my journey by visiting Jennifer Huggins Facebook and @jenhuggins Instagram
---
IMPORTANT UPDATES
---
[PROGRAM REGISTRATION WINTER 2020] KIDS 7+, CO-ED TEEN & GIRLS TEEN BOXING
Note that early enrolment is now open however programs are filling quickly. Register Now
[SPECIAL PRIVATE TRAINING] Limited Spots Available
This is a great option for the kids who are looking to not take time off between seasonal programs. These special private lessons will be conducted with our assistant coaches and will be offered at the discounted rate of $100.00 for 3 sessions. Note that availability is limited. Please "Reply-All" to request sessions.
[END DATES] WINTER PROGRAM
[Tuesday 4:30 pm] Kids 7+ Boxing – Ended
[Saturday 10:30 am] Kids 7+ Boxing – Ends Nov. 23, 2019
Co-Ed Teen Boxing – Ends Dec. 7, 2019
Girls Teen Boxing – Ends Dec. 9, 2019
[NEXT STEPS] YOUTH RECREATIONAL & COMPETITIVE PROGRAM
Offered Year-Round
This is the next progression for boxers interested in taking boxing the next step. Participants can remain recreational, however they will be invited into sparring (optional) and continue their growth as technical boxers. We offer membership and Drop-In packages.
Our Youth Boxing Programs are run by Canadian National Coaches Jennifer Huggins, Virgil Barrow, Phil Daniels alongside our Boxing Ontario Assistant coaches. Those who participate in these classes learn the technical components of the sport, and are given an opportunity to explore their confidence in ways that will help them in all walks of life. The Youth Boxing Membership is appropriate for participants ages 11-19, we also have a special junior program for boxers 7-11 years old. More Info
Please don't hesitate to contact me back if you have any questions or concerns.
In The Meantime, Keep Your Hands Up! 👊
Best Regards,
Jennifer Huggins
Kingsway Boxing Club
www.kingswayboxingclub.com
E. info@kingswayboxingclub.com
T. +1 (416) 234-0075
Visit Jennifer on LinkedIn
Click here to share your journey with Kingsway Boxing Club.