Jake 'The Raging Bull' LaMotta Dies at Age 95
Posted on
---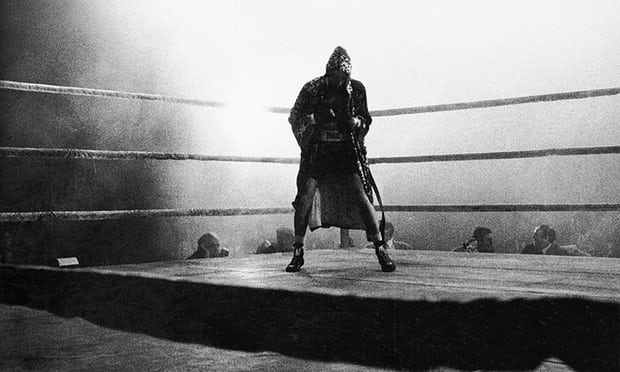 Jake LaMotta was not a great champion but one of the toughest, a boxing beast
The Guardian | View Original Article
Written By Kevin Mitchell
The fine details of his brief reign as world middleweight champion are not always absorbed in recollections of his career, mainly because one of the greatest films of all time painted him in classically Shakespearean mode
---
Jake LaMotta should have been in Las Vegas to watch Gennady Golovkin and Saul "Canelo" Álvarez, two distinguished middleweights pitched together to echo the deeds of the division's glorious past, a fight reckoned to restore boxing's faltering image. LaMotta, who knew a lot about the game's sullied reputation, would have given it a wry smile.
The fight did not quite do its job. It was a terrific rather than a truly great contest and dreadful misjudgment by one of the officials overwhelmingly in favour of Álvarez returned a split draw, drowning out all other post-fight sentiments. So, unfairly but inevitably, Golovkin-Álvarez will be remembered only slightly more fondly than the theatrical crossover fight in the same ring three weeks earlier between Floyd Mayweather and Conor McGregor.
To rinse away the taste of that farce, LaMotta's was a name the promoters raised in the week before GGG-Canelo. He was lauded alongside Sugar Ray Robinson, his nemesis. They spoke, too, about the later Sugar Ray – Leonard – and Marvin Hagler and Tommy Hearns and Roberto Durán. They hoped the past might gild the present. Maybe their memories were selective.
LaMotta, the world middleweight champion from 1949 to 1951, was not ringside on either night but seeing out his final days in a nursing home in Florida. If asked, he could probably recount the night he threw his fight against Billy Fox in 1947 to get his title shot against the charismatic Frenchman Marcel Cerdan two years later – and how he lied about the fix for 13 years. He had bowed to the arm-twisting of Fox's influential gangster manager, Blinky Palermo, but never properly cashed in on being world champion.
He defended the title twice before running into Robinson for a sixth and final time. Then he got fat, fought on for three years, losing four and drawing one of 10, knocked down for the only time in his career, but quitting on his stool twice. His best years were in the 1940s, as a foil for Robinson and terroriser of lesser opponents. He was not a great champion but he surely was one of the toughest, a boxing beast.
(article continues below photo)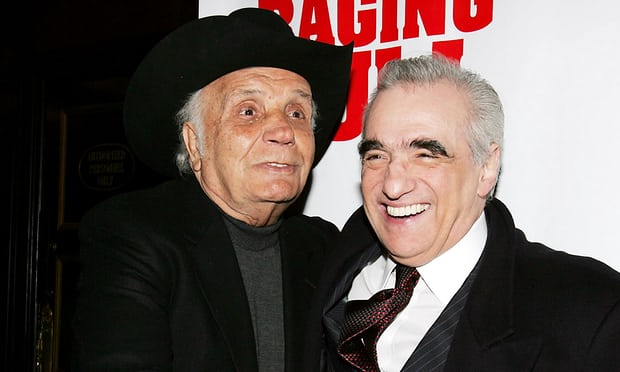 The fine details of his brief reign and the denouement are not always absorbed in recollections of his career, mainly because one of the greatest movies of all time painted him in classically Shakespearean mode, a doomed victim to fear then pity. Martin Scorsese's Raging Bull simultaneously rehabbed LaMotta's standing as a middleweight champion and exposed the essential ugliness of his personality. But his boxing was not the real story.
As Scorsese told the New York Times when the film finally started making noise after its release in 1980: "Those who think it's a boxing picture would be out of their minds. It's brutal, sure, but it's a brutality that could take place not only in the boxing ring but in the bedroom or in an office. Jake is an elemental man."
Scorsese did not say that as something to be proud of but a fact foolish to ignore. Chuck Palahniuk said something similar when I asked him about his exploration of elemental maleness in his book Fight Club. What the filmmaker and the author shared was a fascination with the glamour of violence.
Not a lot about LaMotta's life appeared glamorous, apart from his seven wives, perhaps, the second of whom, Vikki, appeared in Playboy. The last to indulge him was Denise Baker, who was 30 years his junior and by his side when he died of pneumonia on Tuesday, aged 95.
(article continues below photo)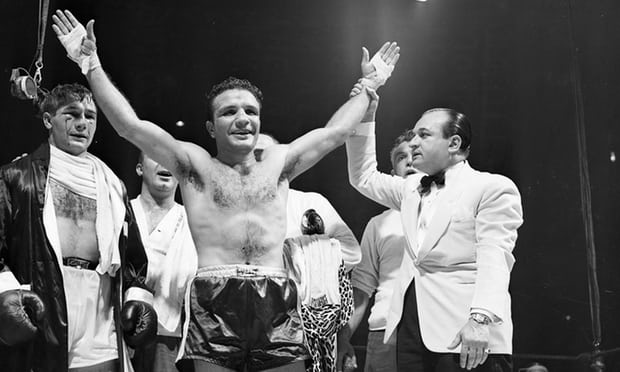 They met in the famous Manhattan bar, PJ Clarke's, in 1993, married two decades later and they shared a stage in a short theatrical rerun of his life that she co-wrote and directed, called The Lady and the Champ. It contains LaMotta's glib take on his many marriages: "My first wife died from eating mushrooms. My second wife died from eating mushrooms. My third wife died of a skull fracture. She refused to eat the mushrooms." The production got worse reviews than LaMotta's fight against Fox.
Mrs LaMotta VII told the celebrity gossip site, TMZ, this week: "I just want people to know, he was a great, sweet, sensitive, strong, compelling man with a great sense of humour, with eyes that danced."
He was all of that – and he was less as well. He went to reformatory school for attempted burglary (never a good look on the CV: attempted); he beat a bookmaker nearly to death and left him for dead, he was serially cruel to his wives, at least some of the early ones, he got six months on a chain gang for introducing men to underage girls in his Miami nightclub, he got bit parts in movies and he recycled his life in a standup act, the centrepiece of which was the On The Waterfront "I could have been a contender" monologue that formed such a poignant closing to Raging Bull.
I was not alone in discovering that, to get an interview, the going rate was whatever he felt like asking for on the day. For all his admirable fighting deeds, LaMotta knew well enough that, if it were not for the book and the movie, the life he led would have been as tough to sell as those of his less famous contemporaries.
As Don King says, you don't get what you deserve, you get what you negotiate.
Jake LaMotta Obituary Read more