FEATURE FIGHTER | GEORGIA CURTIS
Posted on
Leading up to Fight Night we will be featuring one of the incredible men and women who have joined the Fight to End Cancer in support of The Princess Margaret Cancer Foundation.
Meet our #FeatureFighter, Georgia Curtis
Georgia is the Managing Director at Backpocket HR Inc. and is excited and proud to be participating in Fight To End Cancer 2015! With one week to go, Georgia has hit (and passed) her fundraising goal and is feeling more than ready to get into the ring!
? "The training has been intense and challenging and I have really loved it. It is fantastic to feel this fit and strong. I am excited about the fight. I have worked hard and have learned a lot and I am looking forward to pulling it all together and doing my best in the ring."
Georgia has participated in many event and fundraisers in the name of ending cancer, but nothing quite like FTEC. She learned about The Fight To End Cancer through her friend Frances McCart at Eagle, who has been one of our fantastic sponsors for several years.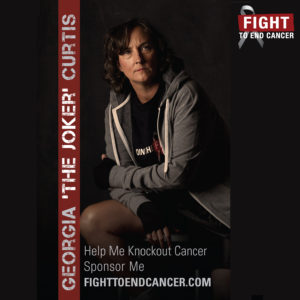 "This fight is for my pal Cindy Weeks. She battled breast cancer and was cancer-free for years. In 2008, cancer returned and since then Cindy has lived with metastatic disease. Her brave tenacity is both heroic and inspiring – she is the toughest fighter I know. She believes that breakthroughs will come, and that cancer can be beaten.
I am fighting for her, and I ask that you please give generously."
Like the rest of the FTEC Fighters, Georgia is raising money for the Princess Margaret Cancer Foundation, so although she has hit her goal, she is not ready to stop raising funds! Help Georgia demolish her goal before she steps into the ring next weekend by making a donation here! 
"I have dedicated my fight to my friend Cindy Weeks.  I could not have anticipated how special it has   been to share this with her. Her network has helped with fundraising and I have donations from some people I have not met. We have talked about the training and what I need to work on and my approach on Fight Night. We have done this together and she is very excited to see the Fight."