EVENT ADVISORY: 4th ANNUAL GALA | SAT. MAY 30, 2015
Posted on


---
 DEFEAT IS NOT AN OPTION!
The 4th Annual Fight To End Cancer Charity Gala
Supporting The Princess Margaret Cancer Foundation
---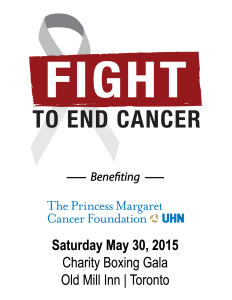 WHAT: Following the Official Media Day Weigh-in last week at Jack Astor's, our 2015 Fight To End Cancer Fight Team are all geared up for the much-anticipated 4th Annual Fight To End Cancer black tie gala. The Gala will be on Saturday, May 30th at Toronto's historic Old Mill Inn, benefiting the Princess Margaret Cancer Foundation. Our Las Vegas-style, pre-show entertainment will commence after a glamorous cocktail reception and gourmet dinner. Master of Ceremonies this year will be celebrity comic, Steve Patterson. The evening's main attraction will be our 2015 Fight Team, who will bravely step into the boxing ring and literally fight to end cancer.
WHEN: Saturday, May 30th, 2015 from 5:00 p.m. – 11:00 p.m.
Reception from 5:00 p.m. – 6:00 p.m.
Dinner & pre-show entertainment from 6:00 p.m. – 8:00 p.m.
Fights begin at 8:00 p.m.
WHERE: THE OLD MILL INN | 21 Old Mill Road, Toronto, ON M8X 1G5
WHY: Ten courageous men and women have managed to raise over $100,000 to date in support of the Princess Margaret Cancer Foundation and have been training in true Olympic-style boxing for the past six months, as they prepare to step into the ring for this important cause.
---
IMPORTANT NOTE TO THE GUESTS
Please be sure to download all necessary event materials including parking passes. Also be sure to register your tickets to ensure entry in case of lost tickets or special dietary needs.
View Guest Materials
MORE INFO, SUPPORT OR DONATE NOW
Visit: www.fighttoendcancer.com
Twitter: @FightEndCancer
Instagram: @FightToEndCancer
Facebook:https://www.facebook.com/FightToEndCancer
TUNE INTO BREAKFAST TELEVISION THIS WED. MAY 27
Catch the FTEC2015 Fight Team and Crew this Wednesday, May 27th from 6:00 am – 9:00 am Live!
Spread the word!
NOTE TO THE MEDIA:
This is a private event. For the full event itinerary and/or a Media Access Pass, please contact: David Kelly, PR Director at david@fighttoendcancer.com. You will find a brief rundown of the Gala timings below. Please allow time to check-in at reception if you are planning to do any live-to-air segments.
EVENT ITINERARY:
5:00 pm – 6:00 pm – Reception and Red Carpet Photo Sessions
6:00 pm – 7:15 pm – Dinner and Entertainment
7:15 pm – 8:00 pm – Pre-show and Speeches
8:00 pm – 10:30 pm – Charity Boxing Bouts and Entertainment

Approximate Timing:

8:00 – Fight 1 through Fight 3
9:30 – Live Auction – View Live Auction Items
10:00 – Co-Main and Main Event Fights
10:30 – 50/50 Draw and Gifts to Guests
-30-
MEDIA INQUIRIES:
David Kelly
Public Relations Director
david@fighttoendcancer.com
www.fighttoendcancer.com