Execs Look To KO Cancer
Posted on
It's Infectious… The "Charity Boxing Bug"
Execs. Across The World Are Catching it!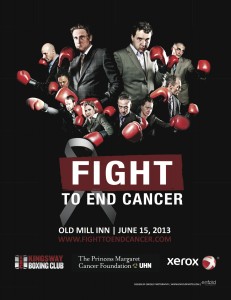 Article By Perry King, My Toronto
May 2. 2013
It's fight night again at the Kingsway Boxing Club. The combatants have been preparing for months, tickets are being sold and all that's left to do is ring the bell.
But these fighters aren't the young up-and-comers you might expect, they're executives, entrepreneurs and lawyers.
No, Kingsway's owner Jennifer Huggins isn't running some Fight Club style night for bored professionals, she's raising money for cancer.
The Fight to End Cancer, which also includes a dinner and pre-show entertainment, is back for its second year on June 15 at the Old Mill Inn. The night will see five bouts, of three rounds each and hosted by AM 740's Frank Proctor.
Last year's gala raised over $56,000 for the Princess Margaret Cancer Foundation.
"Last year's fight card was very local, and it was great because we sold out last year," Huggins said. "This year we're really including more national names."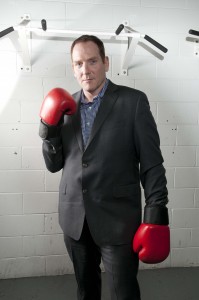 June's main event will pit Matt Hehn from Charton Hobbs against Xerox Canada exec John Morrison.
"It's been a huge commitment," said Morrison, Xerox Global Service's general manager of marketing. "I'm also a bit decrepit, I'm getting a little older. I've got bad knees, bad ankles, so I've had to evolve the training program to fit the conditioning I'm in."
Fighting in memory of his nephew, Alex, who past away from bone cancer, Morrison trains three to four days a week, undertaking general sparring and conditioning sessions in the gym.
"Our family has gotten heavily involved in different ways to get back to helping the fight against cancer, and this is just a different way to do it," Morrison said. "The other piece of this is that I look at myself, at 41, I got a young family, I need to kickstart fitness back into my life.
"Going into a boxing ring June 15 is a great motivator to get out of bed at five in the morning to go workout. Otherwise, it gets thrown on the back burner fairly easily," said Morrison with a chuckle.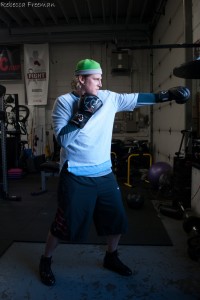 Matt Hehn is a marketing exec with Charton Hobbs, and manages the portfolio of Moet Hennessey. (PHOTO: Courtesy Rebecca Freeman)
His opponent, Matt Hehn, has an athletic history. As the former captain of the men's basketball team at Bishop's University, Hehn is looking to regain his athletic discipline.
"It's a lot of internal stuff, a lot of mornings I'm waking up and doing my own training," said Hehn who manages the portfolio for Moet Hennessey. "It's the willpower I'm creating internally for myself. It's giving me more energy to do my full-time job and take on more activities.
"I finally have a routine in my life, too. Even when I'm traveling, I know I have to get my runs and workouts in because it's going to be a battle to be in that ring."
Huggins used her network to find her fighters and, in accepting the challenge, all the fighters are feeling the competitive juices flowing as they get closer to June.
They thank Huggins for reaching out, for making them care about the challenge and the cause.
"She's not doing it because of somebody close to her, or she's been affected directly, like the reason why I'm fighting, but it's just to give back to her community," Morrison said. "It speaks volumes of her and her organization."
"She's helping the fighters out because a lot of these fighters are overcoming something that personally they're trying to fight for or get back into shape or challenge themselves," Hehn said.
"She's there for each one when she can be, and doing one-on-ones for free. She really takes a passion to fight cancer, but she takes a passion in her fighters, and to make sure they're fully mentally and physically prepared.
Huggins remains humble.
"I guess this is something I'm passionate about, and I want people to feel the passion as well," said Huggins, who also referees and judges provincial boxing competitions. "I think that what I've been doing with getting the corporate guys involved with fighting, it makes them see that they're not just donating money, they're actually fighting for something."