Mayweather Not Focused on Surpassing Marciano's Mark of 49-0
Posted on
---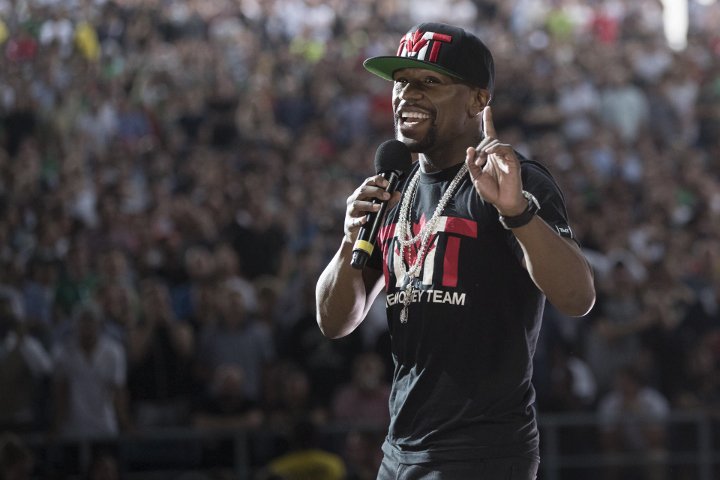 ---
BoxingScene.com: Mayweather Not Focused on Surpassing Marciano's Mark of 49-0
Article By: Keith Idec
View Original Article
---
Floyd Mayweather Jr. is well aware that beating Conor McGregor on Saturday night will help him surpass Rocky Marciano's 49-0 record.
The undefeated five-division champion also respects Marciano's accomplishments and the legendary heavyweight champion's place in boxing history. The 40-year-old Mayweather just doesn't like to compare what he has done to Marciano's career.
Marciano went 49-0 and recorded 43 knockouts during a brief but impactful eight-year career.
The Brockton, Massachusetts, native was 31 when he retired, seven months after his ninth-round knockout of Archie Moore in September 1955 at Yankee Stadium. Marciano was 45 when died in a plane crash in August 1969, the day before his 46th birthday.
"I don't really try to focus on other fighters," Mayweather said during a recent conference call. "But I'm appreciative for every fighter that paved the way for me to be where I'm at. I always talk about I appreciate the legendary fighters. Even though this is No. 50, this is my 50th fight, that's not really my focus."
If the heavily favored Mayweather (49-0, 26 KOs) defeats McGregor in the UFC superstar's boxing debut at T-Mobile Arena in Las Vegas, the Grand Rapids, Michigan, native will move into second place among American-born boxers for the most wins to start a career without a loss. Famed featherweight champion Willie Pep was 62-0 when Sammy Agnott beat the Connecticut native by unanimous decision in a 10-round, non-title fight in March 1943 at Madison Square Garden.
Mexican legend Julio Cesar Chavez owns the overall modern-day boxing record for the most wins without a loss. Chavez was 89-0-1 when he lost for the first time as a pro – a split decision to Frankie Randall in January 1994.
Chavez, who won world titles in three weight classes, retired with a career record of 107-6-2 (86 KOs).
"My focus is to go out there and give the fans an exciting fight," Mayweather said, "even though this is No. 50 and we're constantly talking about Rocky Marciano. I just always like to let the fans and the people know, Rocky Marciano is a legend, Rocky Marciano did it his way and, you know, I just like to try to do it the Mayweather way."
TOP BOXING HEADLINES | VIA BOXINGSCENE.COM