FEATURED FIGHTER | VIGNESH JAYAKRISHNAN
Posted on
Leading up to Fight Night we will be featuring one of the incredible men and women who have joined the Fight to End Cancer in support of The Princess Margaret Cancer Foundation.
Meet our #FeaturedFighter, Vignesh Jayakrishnan, sponsored by Landscape Plus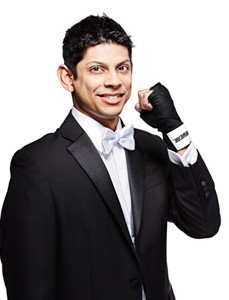 Vignesh works at Aiolos Engineering were he is a thermal systems engineer. In his own words, "Basically, I make it rain." It didn't take much for Vignesh to get hooked on boxing and it took even less to get him to the FTEC 2016 tryouts.
? "The challenge of the sport was something I quickly gained an appreciation for. Since then it has been a goal of mine to train and fight in an amateur bout at least once in my life. When I found out about the Fight to End Cancer charity event, it definitely spoke out to me as an important cause to fight for."
Vignesh's father has fought and beat cancer twice and is a survivor in part due to The Princess Margaret Cancer Foundation. "That is proof that our efforts to fight back are working. And we will continue to progress with newer developments in the field of cancer research. With your help, I hope to reach my fundraising goal and make a difference."
"The Fight to End Cancer is basically a unique opportunity to raise money to battle a disease that will affect us all, either directly or indirectly, at some point in our lives. The Fight to End Cancer is an amazing charity event that brings people of a lot of different avenues of life together and is something I am definitely honoured to be a part of."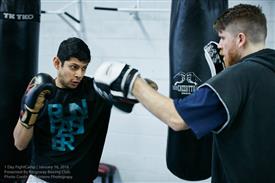 We asked Vignesh what he thought of his opponent Kael Cruz. "His hair NEVER gets messed up during training. Not the slightest bit. I swear, I think his defense for his head will be on point just to protect those beautiful locks. Body shots might be my only option!"
Vignesh, along with the rest of the #FTEC Fighters, is raising money for the Princess Margaret Cancer Foundation. He is almost 70% of the way towards his $10,000 fund raising goal and we want to see him get all the way there! Please make a donation and help Vignesh HERE.
So far Vignesh has been pretty creative in his fundraising pleas. He has offered himself up as the human jukebox (requests for $50) and recently put together this video of his FTEC Journey. Take a look!
"I am dedicating my fight to my dad who has battled cancer twice and is a survivor thanks to the help of the Princess Margaret Cancer Foundation. I am fighting in FTEC 2016 so that people like my dad can fight. "