FEATURED FIGHTER | SAMANTHA KRYSTANTOS
Posted on
---
Leading up to Fight Night we will be featuring one of the incredible men and women who have joined the Fight to End Cancer in support of The Princess Margaret Cancer Foundation.
---
Meet our #FeaturedFighter, Samantha Krystantos, Sponsored by City Alliance 
---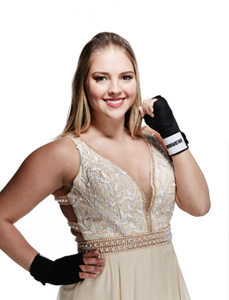 Meet featured fighter Samantha 'The Assasin' Krystantos. Sam will be facing Natasa in our Co-Main Event and featured female bout of the evening.
Sam is a University student perusing her degree in Social Work as well as working at Gymborree Play and Music with 16 month-5 year olds, but her gentle exterior can be deceiving…
"I may be small and sweet but underneath this layer lies a true Ninja!" 
And she isn't joking! Having trained in karate since the young age of 3, Sam is no newbie to sport training and performance under pressure. When interview by The Female Coaching Network for Fight to End Cancer takeover week, Sam shared the differences between her competitive Martial Arts training and the training for her boxing debut at the 5th annual Fight to End Cancer charity gala.
"Karate was a sport that I did for myself…boxing has allowed me to take a different stance because I am not only fighting for myself, but I am fighting on behalf of those who didn't get a fighting chance and had Cancer defeat them. My mission has always been to fight, but now I am able to fight for what I really want… a future without Cancer!"
Sam is a 'third generation' FTEC Fighter (so-to-speak). Her father Mitch Krystantos was in our Main Event at the 2014 gala and Sam's uncle Ryan Morris fought in our event last year.
"Growing up as a little girl the word Cancer was always an open topic of conversation. My dad was a volunteer at Sick Kids hospital for over 16 years…

Through his experiences there he came home to talk to me about what its like being apart of an organization and helping others. My father's passion to help others left a mark on me growing up…"

Samantha with her father Mitch and the FTEC 2015 Team live on Breakfast Television with Jennifer Valentyne.
Sam's goal is to raise $10,000 for the Princess Margaret Cancer Foundation by June 4th 2016. This impressive goal isn't too far out of reach as she has already reached 67% of her goal. Help Sam get to 100% by making a donation HERE!
How is your training going so far? Any surprises?
Every time I come to class I commit and put everything I have into training. I realized that not only is boxing a very technical sport, but it also requires a lot of cardio and conditioning. I will push myself harder than I ever have and I know I will be ready on June 4th…no doubt in my mind.

Support Samantha and check out her interview with the Female Coaching Network today.
ORDER THE LIVE STREAM to see all our fighters June 4th.