⚠️ [COVID-19 UPDATE] GREY ZONE RESTRICTIONS: Virtual Training Only
Posted on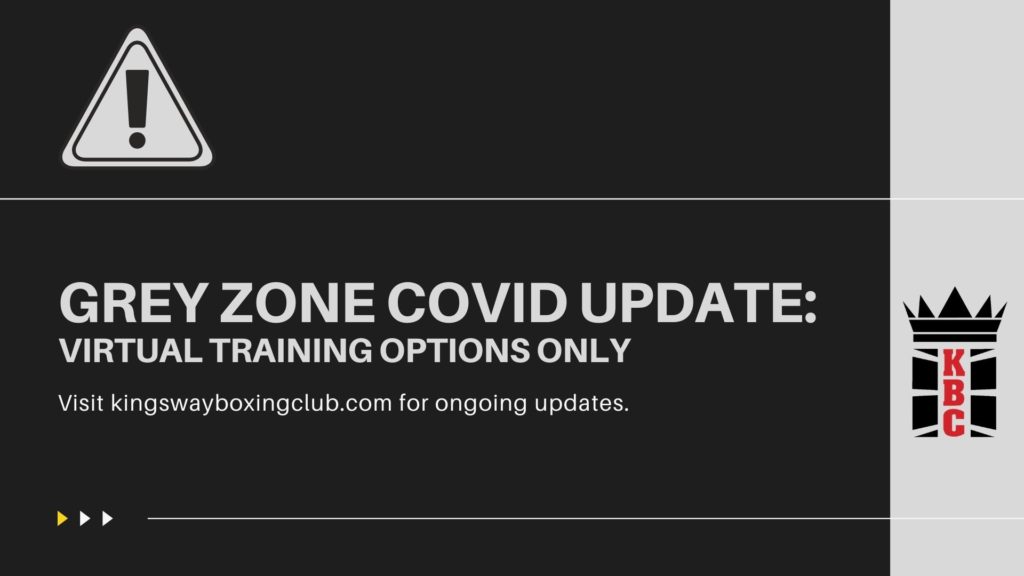 All programs will be shifting to a virtual format effective immediately. Your coach will be in direct contact with private training clients, group programs and specialty enrolments to confirm access and logistics.
COVID-19 Update
November 22, 2020
Dear Kingsway Boxing Family,
We're contacting you directly today to clarify the next steps following the announcement of the "Grey Zone" in Toronto and Peel Region.
Grey Zone protocols directly affect ALL Kingsway Boxing Members and Programs. At this time, we will be offering virtual training only until further notice.
⚠️ GREY ZONE PROTOCOLS IN EFFECT: PLEASE THOROUGHLY REVIEW NEXT STEPS ⚠️
1. SCHEDULED CLASSES SUSPENDED: ACCOUNT LOGIN
All scheduled on-location classes have been suspended and your account will not be deducted for the session. We will hold your reservation in the program and notify you when the locations reopen. Please use your account link if you would like to view your reservations.
2. CONNECT DIRECTLY:
If you're booked for private/group training, please make contact with your coach if you have not yet.
3. KEEP TRAINING WITH TEAM KBC: REGISTER FOR VIRTUAL BOXING & TRAINING
Register for our Virtual Boxing Technical & Conditioning Classes on Saturdays at 9 am & Tuesdays at 6:15 pm. We also offer 5:30 Monday HIIT and Wednesday 5:30 Total Body Virtual Classes EVERY WEEK since the start of the pandemic.
4. STAY UPDATED: KBC COVID PROTOCOLS
We're hoping to be back indoors soon. View the latest status and note the following steps that MUST be taken BEFORE your next outdoor live visit.
---
Thank you so much for your patience and support as we navigate the ever changing legislation and situation. Please don't hesitate to contact me back directly with any questions or concerns.
Sending you all love and appreciation. Stay safe, stay healthy and stay strong.
In The Meantime, Keep Your Hands Up… And Clean!
Jen, Virg and Team Kingsway Boxing
We thank you for your support as we return safely to training and our very important safety protocols.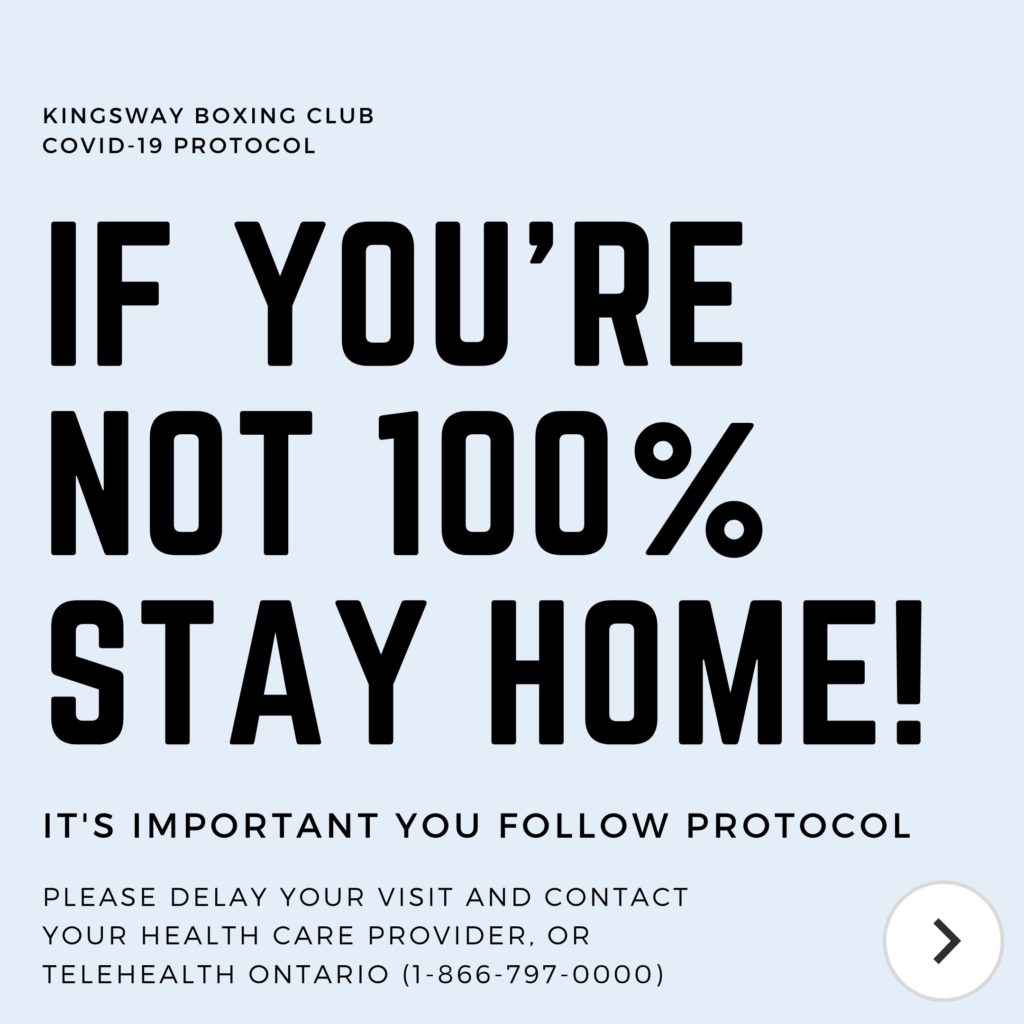 The Kingsway Boxing Family have been back to training since June. It's important to continue keeping our community safe! Please be aware of any possible symptoms and contact us if you're unsure.
Our staff, trainers and coaches will be following strict protocols limiting contact and ensuring the safety of our clients. In addition to cleaning in between clients and classes, a deep clean and sanitization of all locations are conducted at the beginning and end of each day.
Thank you for your support!