FEATURED FIGHTER | ANDREAS WULFF
Posted on
---
Leading up to Fight Night we will be featuring one of the incredible men and women who have joined the Fight to End Cancer in support of The Princess Margaret Cancer Foundation.
---
Meet our #FeaturedFighter, Andreas Wulff, Sponsored by Wolfepoint Management Consulting 
---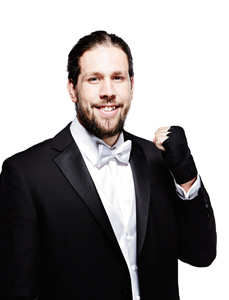 Our 3rd bout of Fight Night, June 4th will be Andrea Wulff vs. Jason McGuire, which is brought to you by our good friends at Tip Top Tailors. Andreas works as a steel stud framer in highrise residential condos for Marel Contractors. He was introduced to the Fight to End Cancer through #FTEC2015 Co-Main Event fighter Paige.
? "I actually met [Paige] through mutual friends before her fight last year and I heard her story. It made me really want to try."
Andreas is looking to raise $10, 000 by fight night. This is a big goal and with every single cent going towards the Princess Margaret Cancer Foundation, it is sure to make a difference. You can make a donation towards Andreas' goal HERE.
When we spoke with Andreas we wanted to know how training was going with Kingsway Boxing and how he felt about the actual upcoming fight.
"The training is going amazing, I'm mostly surprised how much I've actually learned in such a short amount of ? My height and reach are advantages for sure, but as for how the fight will go, you never know really –  it's boxing."
Andreas decided not to dedicate his fight to any one single person, but instead to fight in the name of those who don't have a choice but to fight.
"I feel like this is a very important fight for everyone who has or one day may get the news about the big 'C'. Sometimes I feel if I got the news I'd hope people would be out there giving their everything like I am for this fight on June 4th. My farfar (Danish for fathers father) got cancer when I was young. I just want everyone to still have their loved ones everyday."
Any advice for your opponent leading up to June 4th?
" Keep your head up, sweat out of your eyes and push harder than me."