Important Note: Our programs run as 11-week sessions. If you don't see the date options you're interested in, this means that the session has already commenced. It may be possible to make arrangements to join an existing session if the program session has already started. Contact Us
---
[SPRING 2020] FUSION-FIT FOR WOMEN
Start Date: Tuesday, Apr 7, 2020
Every Tuesday & Thursday at 10:30 AM to 11:30 AM 
Course Duration: Spring Session Tuesday, Apr 7- Thurs. Jun 18, 2020
The session runs for 11 weeks
Location: High-Performance Studios | 3046 Bloor St. W.
Pricing Options: Save up to $20 when you register early! Must Register 2 weeks prior to the course start date to be eligible for Early Bird Rates (if the session has already started contact us to inquire about prorated cost)
Early-Bird Packages:
1x per week $260+hst
2x per week $375+hst
PROGRAM REGISTRATION
STEP 1. NEW CLIENT REGISTRATION Use The Link Below To Register Now *new clients only
STEP 2. MAKE PAYMENT: Select program above *note client's name in payment form if different from the buyer (if the program is in progress please contact us for late registration)
STEP 3. GET TRAINING!
PROGRAM DESCRIPTION
Come into our Bloor Street studio and join other health-minded women in a high-energy, small group fitness class. Fusion-Fit is designed to work for every single muscle group. The program is a combination of strength training, cardio, boxing, core conditioning and flexibility. Each and every class is unique, challenging and fun! All fitness levels are welcome!
BONUS – All Fusion-Fit women will get a free access membership to our Boxing Gym Location during open training hours for the duration of the program!
The Workout: With the FUSION of fun boxing drills, these classes will include a combination of strength, cardio, muscle endurance, flexibility, core, and functional movement exercises. You will get EVERYTHING you need!
Time Efficient Training. Our classes are 60 minutes in length. Get you in and get you out. We keep you moving and burning fat from the first minute to the very end!
NEVER Plateau! The body hates change! It would much rather do the same thing every minute of every day. Well, we have news for you…when you do the same exercise routine day in and day out you stop seeing results or "plateau." Throughout our classes, we utilize the principle of muscle confusion. You will NEVER do the same workout twice! Why is this good? Because…your body will never adapt and you will never plateau! You will get results and they will come quick and continue to come!
Positive Energy: Our Bootcamp is about a team environment where both your trainers and fellow Bootcampers motivate and challenge you to reach your highest potential!
KBC Family: Make new friends and become a part of the Kingsway Boxing Bootcamp family! Everyone supports each other and it's an experience like none other. Come and see for yourself! Get fit and have fun!
---
About Your Coach
Colleen Layug | Bootcamp Coach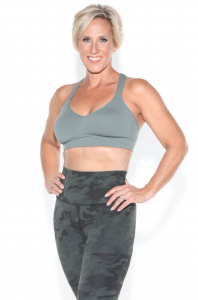 Colleen is a high-energy group fitness and kickboxing instructor and personal trainer. She has inspired all age groups including seniors and children, to get fit and healthy. Colleen loves teaching a variety of exciting, motivational fitness classes, and training her clients to push their bodies to their personal limits. She has a passion for fun and believes that fitness should be enjoyed, not dreaded. Her motto is "Work hard, play hard. The work you put in are the results you get out."