Important Note: Our programs run as 6-12 week sessions. If you don't see the date options you're interested in, this means that the session has already commenced. It may be possible to make arrangements to join an existing session if the program session has already started. Contact Us
---
FIGHTING-FIT FOR GUYS PROGRAM OPTIONS
---
PROGRAMS TO BE ANNOUNCED
PROGRAM REGISTRATION
STEP 1. NEW CLIENT REGISTRATION Use The Link Below To Register Now *new clients only
STEP 2. MAKE PAYMENT: Select program above *note client's name in payment form if different from buyer (if the program is in progress please contact us for late registration)
STEP 3. GET TRAINING!
PROGRAM DESCRIPTION
This is a program tailored toward mature men who would like to improve their overall health and fitness level.  To achieve this, we use a combination of floor exercises, cardio routines, and basic boxing routines to keep you active and help to get rid of that "dad bod".  This class is a great way to strengthen your mind and body in a safe non-contact environment.
If you're hoping to get in great shape and improve your health, you just might want to sign up for this class. Here are a number of other reasons why:
Enhanced Cardiovascular Health
Improved Total-Body Strength
Better Hand-Eye Coordination
Decreased Stress
Improved Body Composition
Improved Confidence and Self-Esteem
Recent studies have shown that as we get older, it's more important than ever to maintain some form of regular exercise.  Although the obvious physical health benefits are fairly easy to list, the mental health benefits are equally as important.  As more research is done, we are learning how important physical exercise and diet are to the prevention of such diseases as dementia and Alzheimer's.
BONUS – All Fighting-Fit Guys will get a free access membership to our Boxing Gym Location during open training hours for the duration of the program!
The Workout: With the incorporation of fun boxing drills, the program will include a combination of strength, cardio, muscle endurance, flexibility, core, and functional movement exercises. You will get EVERYTHING you need!
Time Efficient Training. Our classes are 60 minutes in length. Get you in and get you out. We keep you moving and burning fat from the first minute to the very end!
NEVER Plateau! The body hates change! It would much rather do the same thing every minute of every day. Well we have news for you…when you do the same exercise routine day in and day out you stop seeing results or "plateau." Throughout our classes we utilize the principle of muscle confusion. You will NEVER do the same workout twice! Why is this good? Because…your body will never adapt and you will never plateau! You will get results and they will come quick and continue to come!
Positive Energy: Our program is about a team environment where both your trainers and fellow Fighting-Fit Guys motivate and challenge you to reach your highest potential!
KBC Family: Make new friends and become a part the Kingsway Boxing Bootcamp family! Everyone supports each other and it's an experience like none other. Come and see for yourself! Get fit and have fun!
---
ABOUT YOUR COACH | ROB GORICAN
---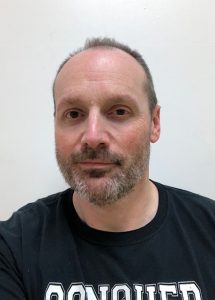 Rob Gorican is a professional leader and boxing trainer/coach with over 5 years of teaching & coaching experience. With over 5 years in the sport, he's made it his mission to share the positive impact boxing can have on your physical and mental well being. His focus has always been on keeping the environment at each establishment as successful and professional, all the while creating a fun working atmosphere.
Rob has been focused on expanding his knowledge of the sport and has developed a teaching style that emphasizes a fun experience for the whole class!